10 Incredibly Bloody Comic Book Deaths
Clean up on page 9.
Despite its cast of extraordinarily powerful heroes and psychologically sadistic villains, for decades, the comic book universe was not a graphically violent place. Even when a character was brutally murdered, like Uncle Ben or Gwen Stacy, readers were very rarely exposed to scenes of blood, guts and gore.
But by the time Frank Miller burst onto the scene in the late 1970s and lent a dark, film noir-inspired sensibility to characters like Daredevil and Batman, the industry started to move in a more violent, blood-soaked direction. Other creators followed suit, and in 1982, Marvel launched its Epic Comics imprint, which featured more violent and explicit content that was geared towards adult readers.
The rise of the €œImage Revolution€ in the early 90s opened the doors for even more comic book blood and guts. As an independent publisher giving its writers and artists complete creative control, a number of series geared towards €œmature€ audiences started to pop up. In 1993, DC launched its Vertigo imprint, which published a number of Eisner Award-winning series that also happened to be some of the most brutal and bloody in the medium€™s history. In 2001, Marvel took its second stab at mature content when it launched its €œrated R€ imprint Max, which was promoted as being an €œuncensored€ approach to comics.
Today, even a publisher as benign as Archie Comics features more mature titles like Afterlife With Archie. Some of the most popular comic book series such as The Walking Dead and Kick-Ass feature incredibly graphic and violent content. Reflecting how the industry has changed over the past 30 years, the following list is a historical retrospective of bloody and violent comic book deaths.
Entries were considered not only for the amount of blood and intestines depicted, but also the scene€™'s historical context and industry significance. If a certain entry doesn'€™t seem €œthat bloody€ by today€™s standards, keep in mind that the ultra-violence sub-genre in comics has been evolving for decades and what was once incredibly risqué and shocking may seem tame in comparison today.

Honorable Mention: Jason Todd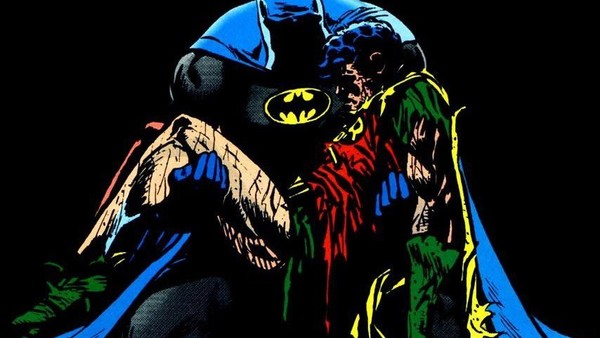 Jason Todd'€™s death at the hands of the Joker in 1988€™'s €œA Death in the Family€ was not technically a €œbloody€ death, but it was incredibly brutal and disturbing given its context and its aftermath.
Prior to the publication of €œA Death in the Family,€ Todd, the successor to Dick Grayson as Robin, was so unpopular with Batman readers, the book€™s editor Denny O'€™Neil was trying to determine if the the character needed to be written out of the comics. As the ultimate test of fan opinion, DC published an issue where the Joker brutally beat Todd with a crowbar and then allowed the readers to determine Robin€™s fate via a phone vote.
Killing Todd won out (though O€™'Neil would later question the accuracy of the poll) and he died in an explosion. The sight of seeing a comic book icon like Robin -€" regardless that he was the €œsecond€ incarnation of the character €"- so badly beaten and burned was absolutely shocking. And the fact that this storyline was determined in such cynical fashion did not sit right with many people.
Comic book legend Frank Miller called Todd'€™s death one of the €œugliest€ things he ever saw in comics. In this case, €œugly€ might be even more unsettling than bloody.