10 Things Everyone Forgets About Nightwing
9. Bludhaven And Blockbuster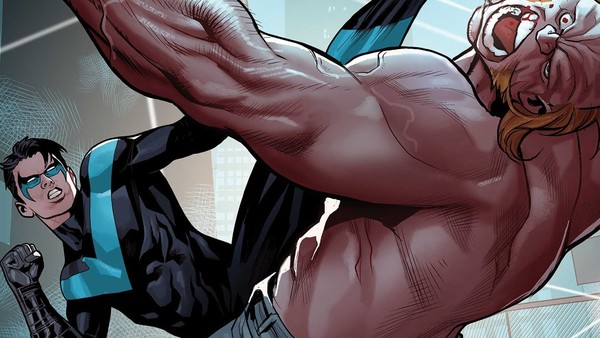 Bludhaven is a former whaling town to the south of Gotham City. It is generally said that everything that is too corrupt for Gotham flows down to Bludhaven. The city has long struggled financially due in large part to its corrupt politics, underhanded business dealings, and mostly criminal police department.
Roland Desmond took his brother Mark's special strength-enhancing steroid to turn into the second Blockbuster. But like Mark, he found that his intelligence was diminishing greatly. It wasn't until he sold his soul to the demon Neron that he was able to retain his intelligence and his brute strength. Thus empowered, Blockbuster took over the criminal activity in Bludhaven. He instilled a mayor and police chief under his control and kept Bludhaven under his thumb.
Wanting to distinguish himself as a hero outside his mentor's shadow, Nightwing moved to Bludhaven and began to chip away at the city's underworld. He has had numerous epic battles with Blockbuster and, having recently come into a large sum of money, Dick is taking an active part in changing the face of Bludhaven. Since Blockbuster was recently murdered by Heartless, and both the mayor and Police Chief are honorable people, it is possible that Bludhaven might have better days ahead.