7 Best Times DC Characters Used Power Rings
What corps does Batman REALLY belong to?
While DC has enjoyed placing power rings onto the fingers of their heroes for many a decade, the trend has certainly picked up ever since Geoff Johns' run on Green Lantern.
This is probably because that run included the DC-wide event Blackest Night, a book that saw several heroes and villains have such rings forced onto their hands.
It was fantastic, and prompted other writers to have similar moments in their own titles - whether that be to create an awesome sequence, up the stakes or because the publisher wanted to make an action figure of character X with ring Y. Needless to say, the DC universe has a lot of characters to mess around with, and given some characters have wielded more than one ring over the years, that means there are a ton of great moments where the publisher's non-Lanterns became one.
Whatever the case may have been, there have been some truly epic moments of this kind. Each of them almost likes like when a new character wields Mjolnir in a Marvel comic, so here are some of the best times DC's heroes and villains were given a serious upgrade.
SPOILERS FOR DCEASED FOLLOW!
7. Supergirl - Red Ring (New 52)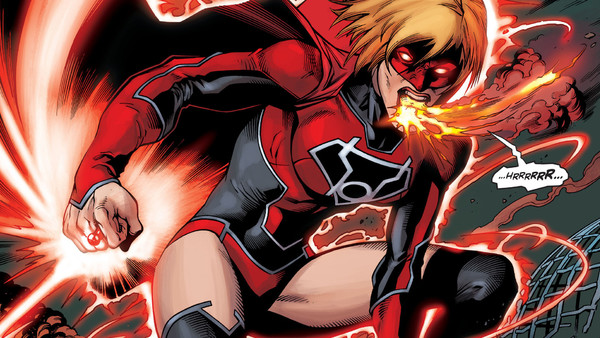 When most of think of which lantern corps that Supergirl would end up in, the first thought probably isn't the Red Lanterns; after all, Kara Zor-El is calm, collected, has a will of steel, inspires hope in others and is really quite compassionate, so why would she receive the ring that represents rage?
Well, nonetheless, the New 52 version of the hero was made a member of the Red Lanterns - a story that surprisingly worked, and provided a new spin on not just Superman's cousin, but the other corps of the DCU.
This incarnation of the character was often more angry than previous depictions and the combination of this and a battle with the aforementioned Lobo created the perfect set up for her to join this particular corps.
The ensuing adventures were great and the new costume was utterly fantastic.