8 Mind-Blowing Facts You Didn't Know About Bullseye
Daredevil's Most Dangerous Villain Is WAAAAAY Crazier Than You Would Think.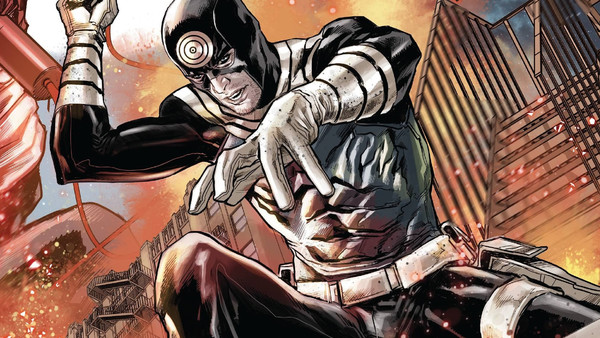 Despite having no superpowers, Daredevil's nemesis, Bullseye can turn any object into a lethal projectile. The first time he realized he had a gift for hurling objects with lethal force was when he decapitated a bird with a yo-yo.
As the years went by, he became a mercenary and the personal assassin of the Kingpin. However, Bullseye is best-known for being "The Man Who Never Misses." Unfortunately, he lost this title after he failed to kill Daredevil. With his reputation tarnished, Bullseye has been obsessed with The Man Without Fear ever since.
What makes him even scarier is his motivation – He is not one of the typical supervillains who desires money or power. He just enjoys killing. That's it. There is nothing he loves more than ending a person's life. He has murdered women, children, nuns, priests; there is no one who is off-limits to him. He is beyond reason or rationality. Once he is coming for you, almost nothing on Earth can save you.
But for all that Daredevil's most dangerous and enigmatic villain is certainly more prominent than his other enemies, there are still things that fans may not know about him. He's been through plenty since his first appearance in 1976, and he isn't as simple as fans may think...
8. No One Really Knows Who He Is
Despite battling Daredevil for over four decades, next to nothing is known about Bullseye.
This all seemed to change in the story, Bullseye's Greatest Hits, when he divulged his backstory to several inmates while he was in prison. He reveals that his real name is Lester and his father was a drunk who regularly beat him and his brother, Nate. Lester and Nate vented their frustration by shooting pigeons on his rooftop.
One day, Nate seemed to have enough. He told Lester not to come home so he could kill their father. When Lester eventually came home, he saw his house was in flames. The fire killed Nate as well as his parents. As a result, Lester was forced into a foster home.
However, Bullseye admits that he made this entire story up and his brother has three kids and lives in Iowa. Bullseye then said it was he who set the fire, but his father survived the blaze and the only reason he allowed himself to be arrested was so he would be sent to the same prison as his father. Bullseye then escaped and burned down the prison, leaving his father to die yet again.
His entire life is an enigma.