Green Arrow #32 Dark Nights Tie-In Review
Benjamin Percy, back at it again with the best Metal tie-in yet?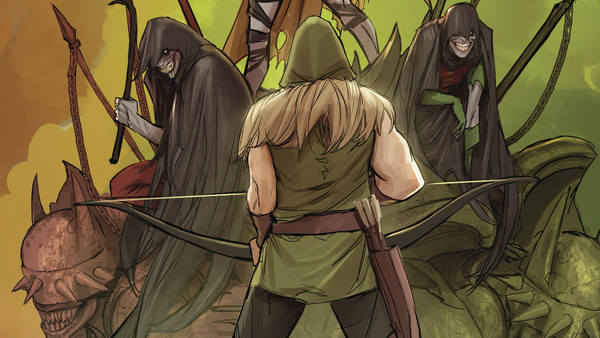 Rating:˜…˜…˜… ★★★★
Benjamin Percy's Green Arrow has been one of the key highlights of DC Rebirth for sometime now, and this latest issue - a tie-in to Scott Snyder and Greg Capullo's Dark Nights Metal series - reiterates that fact with glee.
The finale to the 'Gotham Resistance' storyline, Percy picks up where he last left Ollie, Damian, Dick, Mr. Terrific and Harley in the twisted wonderland of the Hatter's Gotham. It's an odd group to say the least, but it works (surpassing this week's other team up, Spirits of Vengeance), with Ollie taking a starring role throughout in spite of the fact that it's very much a Bat-book in all but name.
And indeed, its batty nature ends up serving the issue well, with Percy having delivered a truly brilliant tie-in to Dark Nights that's more than worth your time, Arrow fan or otherwise. Juan Ferreyra's art is as gorgeous as ever, and lends itself well to the metal aesthetic of the Snyder/Capullo book itself. There's some truly terrifying imagery on display here, and represents something of a contrast from the main Green Arrow title, which - unlike Metal - isn't really all that big on the Bat-themed dystopia currently pervading the DCU.
It's a welcome change of pace however, and you can tell that Percy has a great feel for the relationship between the Emerald Archer and his Gotham City counterpart. The way Ollie interacts with Damian makes for some of the book's best sequences, and provides one of the most shocking and compelling moments of the event thus far.
Final Thoughts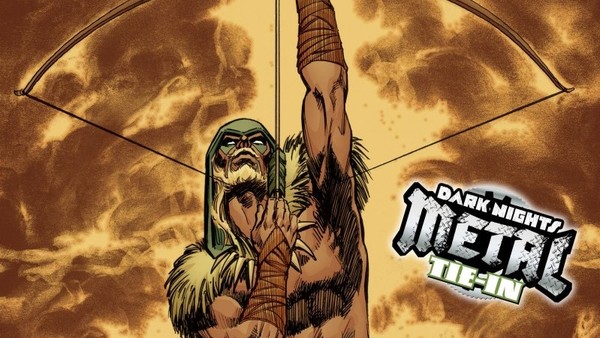 Like last week's Batman: The Murder Machine, you don't have to pick up Green Arrow to get the full Dark Nights experience. However, if you are a fan of the Emerald Archer, and you want to get more from the event itself, then it's a fine book indeed. It's certainly the best Dark Nights tie-in we've seen yet, as Percy continues to place his stamp on a character that, for over a year now, has been getting the most amazing treatment on the page.
It's gorgeous, riveting, comes with a killer reveal near the end and exemplifies pretty much everything there is to love about DC at the moment. Everything is so grand and bombastic and yet so personal at the same time, and that's where Metal seems to thrive. To maintain that feel in both an event and a tie-in comic at that is particularly brilliant, not least because it subverts expectations, but also because it exemplifies the strength of both the GA and Bat-books at the moment.
Things will be returning to normal in two weeks as Percy and Jamal Campbell commence the 'Trial of Two Cities' arc, and while we're all desperate for more Ollie Metal... ness, it'll be great to see the series return to Queen's adventures in Star City again. Percy's GA continues to exemplify all that's great with Rebirth, and while it's true that Metal's tie-ins have all managed to subvert expectations in their own way, the finale to Gotham Resistance may just be its best.
What did you think of Green Arrow #32? Be sure to post your thoughts in the comments below!
We need more writers about DC Comics and Green Arrow! Get started below...
Create Content and Get Paid
---
Ewan Paterson
WhatCulture's very own Comics Editor. Cats, comic books and spaghetti westerns are my thing. Rants about stuff @EwanRuinsThings
See more from Ewan