Hellboy: The Board Game Review
Mantic deliver a game B.P.R.D. fans won't want to miss.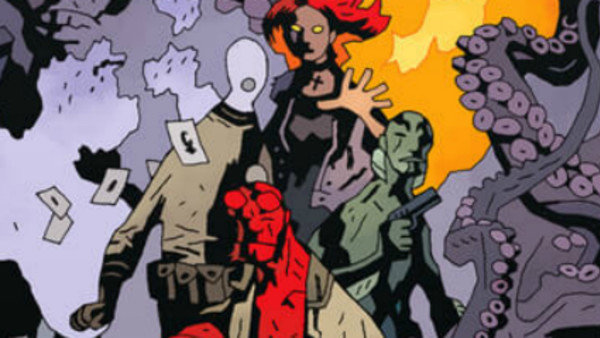 Although 2019 threatened to leave Hellboy fans ultimately disappointed, courtesy of a tepid summer release in Lionsgate's Hellboy, there's still plenty more to look forward to if you've been following Mike Mignola's creation. It's the character's 25th birthday this year, and to mark the occasion Mantic have partnered with Dark Horse Comics to produce Hellboy: The Board Game, a cooperative experience tailored for 2-4 players that utilises the license brilliantly.
The game itself is fun enough to play even if you aren't familiar with Mignola's work, but for those who've been reading Hellboy, the B.P.R.D., Abe Sapien and everything else in between, it's easy to appreciate Mantic's attention to detail. Whether it's the miniature figures of Hellboy and co., the plague of frogs or the tentacle boss, all are lovingly recreated from the comics and bear the hallmarks of Mignola's iconic pencils.
This same principle is applied to the layout of the game itself. Tasked with putting an end to a monstrous plague of frogs (itself inspired by the first Hellboy and B.P.R.D. books), players navigate dark and gothic scenery uncovering clues and fighting enemies. The tiles look as though they've been taken straight from Dark Horse's pages, while the rule book and character cards that describes each player's abilities all bear the imprint of Mignola's work.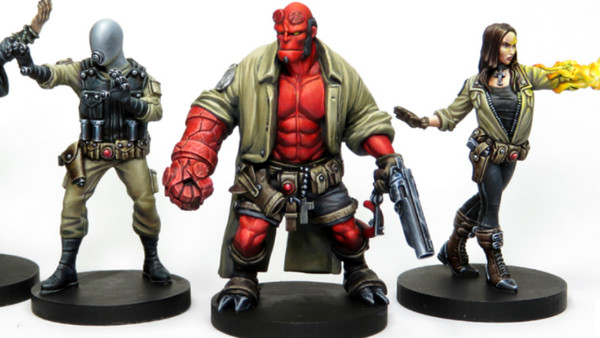 It's a stunning thing to look at, but it's even better to play. Visually, it's easy enough to tell that Mantic's game is a love letter to Hellboy and his related characters, but once you dive in and start playing that knowledge and appreciation of the comics becomes only more evident.
For instance, if you choose to play as Hellboy, you'll discover that he isn't the best at ranged attacks. The character only wields a large weapon in the comics because he's such a notoriously bad shot, while his large frame and monstrous physique makes him a priority target to the various enemies you go on to encounter.
Abe, meanwhile, is much better at ranged attacks. Kraus is an expert sleuth, and Liz can target multiple enemies at once. It makes each character unique in a manner that ties it back into the mythology of the comics, and by the time you encounter a boss, Hellboy really comes into its own.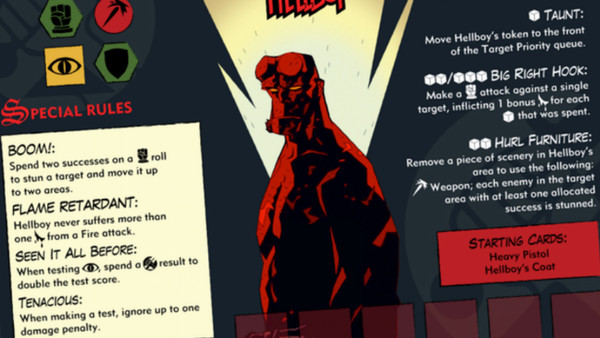 Boss battles in Hellboy are brilliant. You're forced to draw out a selection of cards that then influence which moves the given boss will utilise. It's effectively like an AI, and it means players have to really coordinate their attacks in order to emerge unscathed.
It's just a really rewarding experience, and though it'll be hardcore Hellboy fans who end up getting the most out of it, Mantic's game is immaculately assembled and executed, and something everyone will be able to appreciate.
Rating: ★★★★★
Board Game Supplied By ASMONDEE
Want to write about Hellboy and Dark Horse? Get started below...
Create Content and Get Paid
---
Ewan Paterson
WhatCulture's very own Comics Editor. Cats, comic books and spaghetti westerns are my thing. Rants about stuff @EwanRuinsThings
See more from Ewan