How The New 52 Broke DC Comics
Ten years on from the publisher's ambitious reboot, DC is still struggling to reclaim its identity.
2021 has already proven to be a year of change for DC Comics. The house of Batman, Superman and Wonder Woman has experienced massive ructions as a direct result of the COVID-19 pandemic, breaking ranks away from Diamond Distribution in 2020 but then also suffering massive losses behind the scenes, with AT&T and Time Warner gutting DC Collectibles and much of the publisher's editorial staff.
But for all that behind-the-scenes tumult has arguably defined DC in the COVID era, the publisher's actual comics output has been met with repeated praise from readers and critics. Black Label has continuously delivered on the promise of exciting, creator focused works unshackled by continuity restrictions in more traditional superhero fare, while Future State - although very much a watered down version of the publisher's ambitious 5G reboot that was ostensibly cancelled in the wake of Dan DiDio's firing as editor-in-chief - has also proven to be a reinvigorating addition to the DC universe.
Future State was fresh and exciting, breaking with the status-quo by introducing new characters that sported bold new designs and premises, but it's been quickly followed by Infinite Frontier, the latest in a long line of initiatives from the publisher that have vowed to reclaim the magic and optimism - the tonal uniqueness that makes DC so DC-y - that has supposedly absented their comics over the preceding decade.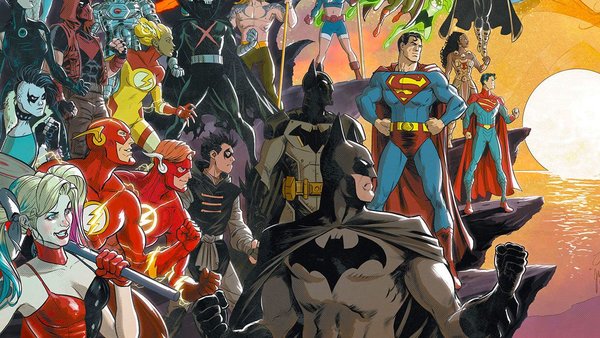 Readers could be forgiven for rolling their eyes at Infinite Frontier, if nothing else than because it's vowing to do the same thing that Doomsday Clock promised two years ago, which in essence merely echoed the same thing DC Rebirth introduced a further three years before that. The quality is still there, and it's probably even fair to say that we're seeing one of DC's most creative periods in years, but the message is clear: DC as a publisher is struggling to find its identity some ten years after embarking on its riskiest experiment, the New 52.
Introduced in 2011, the New 52 was an ambitious plan headed up by DC editorial to revitalise the company, who were continuously lagging behind Marvel in terms of sales month after month. Anxieties stemmed from a multitude of reasons - whether it be that the characters themselves were too old, their continuity too complex or that the overall aesthetic was dated. There was an idea that DC was failing to resonate outside of the publisher's core audience and that it had to do something different - drastic, even - to stand a chance of increasing the publisher's share of the market.
The New 52 was meant to address all of these concerns, hitting a hard reset on DC's decades-spanning continuity and carving out a new aesthetic to make it more accessible to new readers. 52 new series were drawn up, some taking place in the formative stages of the new continuity but others mostly in the present. It was met with some pushback from readers, but the reboot became an instant success when it launched in August 2011, outselling Marvel throughout the end of 2011 and 2012 and by all accounts having the desired effect of bringing in new readers.
[Article continues on next page...]