10 Football Manager Legends Who Flopped In Real Life
Virtual world beaters, but real-life Sunday leaguers.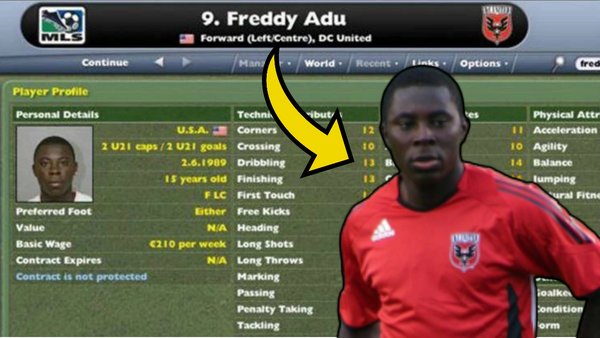 It's a game renowned for its accuracy and depth of detail, with an international scouting team the envy of any Premier League club, but that doesn't mean that Football Manager (and it's earlier incarnation Championship Manager) always gets it right.
Predicting which young talents will thrive and flourish into the next Messi and which will have as much impact on the real game as the completely fictional Tó Madeira is a hard job for even the most experienced scouts.
And that's even more true when your game is so influential that it can only add to the pressure of a teenage kid being branded "the next big thing"!
Yes, two decades ago Championship Manager may have alerted armchair pundits around the world that a teenage Bosnian-Swedish striker at Malmö FF could be picked up for a bargain and still be banging them in at the highest level a twenty years later. But what about the Congolese-Swedish midfielder at Derby who was set to be the best in the world? Whatever happened to him?
For every Zlatan there's a Tonton. The virtual Ballon d'Or contenders may have attained legendary status on the PC, but never really cut it on the pitch. These are the ten greatest Football Manager icons whose real-life careers ended up going very differently.
10. Nicolás Millán
In the game:
A teenage prodigy Chilean goal machine, Colo Colo striker Millán was the major find in Football Manager 2007. Available for less than £1 million - if you could get a work permit - by the 2010s you were looking at a 50 goal a season star. Assuming you played the game on to today's date, then Millán would likely be the current best in the world.
In reality:
Dubbed the Chilean Cristiano Ronaldo for his love of stepovers, Millán was indeed hugely promising as a youngster. At just 14 he became the youngest ever player in a Chilean league game, while also scoring repeatedly for the national Under-17 team. Chelsea were reportedly interested in giving him a trial.
Still only 28, Millán's career hasn't quite gone as spectacularly as he or we might have anticipated. After those two games as a 14 year old, he only played once more for Colo Colo's first team in the next five years before his contract expired.
Rather than the English Premier League, Millán's whole career since has been confined to the Chilean third tier. Earlier this year he signed for recently relegated San Marcos, the seventh third division club in the last decade to try and unlock that early potential.
Far from 50 goals a season, the real Millán has yet to hit that half century in his whole career.