8 CRAZY New Features In WWE 2K19
8. The Broken Multiverse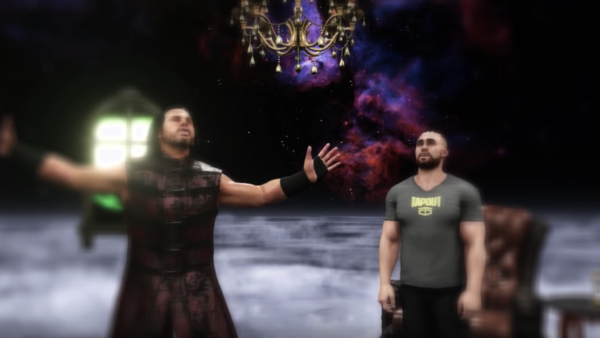 WWE never truly delivered a fully realised version of Matt Hardy's wonderfully bizarre Broken Universe while the injury-ravaged 43-year-old was active. Perhaps it was always going to be this way, as Vince McMahon has often been reticent to go all-in on gimmicks created elsewhere, and the comedic concept likely came with a midcard ceiling in his promotion anyway. The disappointingly diluted 'Woken' version we got didn't hit the mark, even if the Ultimate Deletion was bags of fun.
Fans of the character will be pleased to learn that Hardy's wild, imaginative world comes to life in 2K19. At one point, the MyCAREER trailer shows Matt decked out in full Woken regalia, welcoming the player to his Multiverse. There's smoke, a cosmic backdrop, and a glowing green window, but that's the extent of what we know so far.
If the footage is representative of the final product, this scene comes after your character is knocked out by a red-masked mystery assailant, sending you to Hardy's realm. Here's hoping it's more than just a single scene, though: exploring this Multiverse sounds like fun...
Andy H Murray
WhatCulture's big bad wrestling news baron. A fan since 1992, still geeking out for everything from WeeLC to mid '80s Jim Crockett Promotions. Give him a follow @andyhmurray. You'll have a great time. Maybe.
See more from Andy