9 Video Games To Play For A Perfect Date Night
Couples that play together, stay together.
There's a wonderful saying that speaks to the benefits of gaming with your significant other: "Couples that play together, stay together", and there's a genuinely hopeful sentiment at the centre that makes it well worth believing in.
But does that actually work in practice?
In the past, gaming has been seen as a pretty divisive pastime. A certain "your console or your partner" ultimatum has been thrown at many a gamer over the years, begging the question of whether the two really have to be mutually exclusive.
Now the answer to that optimistic question is becoming brighter than ever, thanks to a massive diversification across the genres and platforms of the games we love. As the recent story about two Warframe players marrying in real life shows us, modern gaming has something to offer virtually anyone, with all manner of hobbies and activities captured on our interactive screens. But what does that mean for gaming and your love-life?
Well, it means great things of course, and to showcase that I've collected a guide of ten games that - for a variety of reasons - are absolutely perfect for playing on a date.
Let us know which video games you've shared with your partner in the comments below.
--
9. The Walking Dead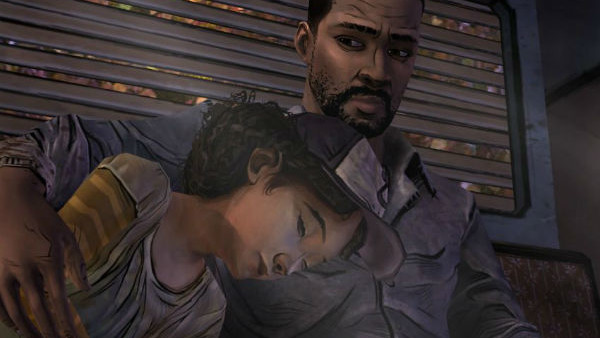 With scores of viewers still waiting to find out who's going to be on the receiving end of a beating from Lucille, anyone who likes to watch The Walking Dead as a couple is definitely suffering a dry spell. Fortunately, there's plenty more zombified action to enjoy, and it comes without the task of deciding who gets to turn the comic's pages...
Telltale's take on an alternative tale in the zombie apocalypse has proven to be just as exciting and unnerving as the mainstream TV series, but its formula makes it even more engaging. The setup is just interactive enough to keep you on your toes at all times, but it doesn't require so much input that you get too wrapped up in the action to realise your date left two hours ago.
In truth, the mechanics of pretty much any Telltale series makes for a great dating parlance. Each episode is essentially a movie that you guide one character through; the action sequences are a thrill for whoever's holding the controller at the time, while a collective approach to the dialogue and moral choices makes for one heck of a talking point between two players.
Just don't choose to have Clem kill the dog if your date is an animal lover...
Gareth Cartwright
Gareth is 28 years old and lives in Cardiff. Interests include film, TV and an unhealthy amount of Spider-Man comics and Killers songs. Expect constant references to the latter two at all times. Follow on twitter @GJCartwright.
See more from Gareth