Anthem: 9 Things It Must Learn From Mass Effect Andromeda
Decent animation is a given... right?!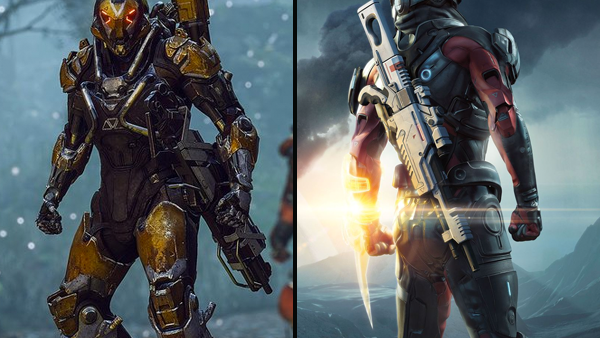 If there was one game commanding the spotlight at E3, it's Super Mario Odysse- it's Anthem. The next project from Bioware, Anthem has actually been in development since 2012, existing in codename form only until it was ready to be unveiled to the masses.
Said codename was 'Dylan', though the best thing about this behind-closed-doors project is that it's headed up by Casey Hudson i.e. one of the key members behind the Mass Effect trilogy. Dylan/Anthem is what Hudson changed gears and began leading after the close of Mass Effect 3, meaning his team had access to EA's substantial coffers, alongside learning all the possible lessons from both Dragon Age: Inquisition and Mass Effect Andromeda.
A mighty tantalising recipe for success, if ever there was one.
So far we've seen a slick co-op gameplay demo (Anthem is all about teams of exo suit-wearing soldiers ridding a post-apocalypse of monsters and mech-based enemies), and a teensy glimpse into the potential franchise's lore.
Make no mistake, Bioware need every second of Anthem to wow upfront and deliver in the long term. The studio's once-great name has not being attached to anything stellar since 2010's Mass Effect 2, and if the team are going to get everybody singing as loud as possible after Andromeda's high-profile failure, here's how.