Football Manager 2016: 20 Best Assistant Managers
"Handle Opposition Instructions" - Yes please.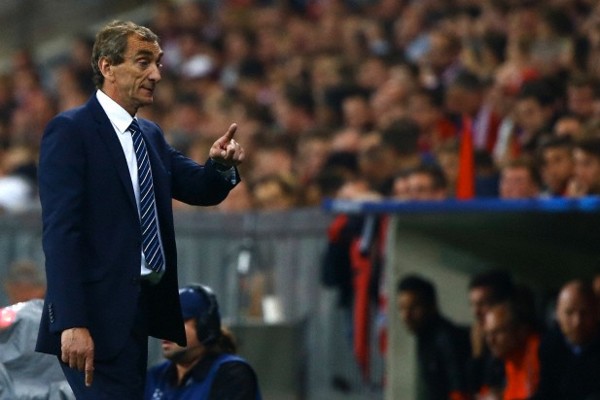 'Football Manager' is tough and if things aren't going your way it can feel like the whole virtual world is closing in on you. Therefore it's important that you don't try and handle the inevitable pressures of football management on your own and recruit a competent number two who can help you through your journey. It's crucial that you trust your assistant manager as Football Manager 2016 has a number of different options, roles and responsibilities that you can push in their direction and not upset the side's chemistry too much. Whether it's handing out the opposition instructions, offering tactical advice or taking control of friendly matches your right-hand-man needs to mirror your philosophy and match your football aspirations. You're mainly going to use your assistant to help you with you with your team talks, media duties and tactical game plan and therefore there are some key attributes that you specifically need to look for when attempting to sign them. I've strategically looked at the key attributes that an assistant manager must have on FM16 and decided to focus mainly on tactical knowledge, motivation and man management. These traits will help you the most and will leave your club in safe hands if for some reason you need to take some time off (or have a touchline ban). If you're managing an elite side then you may be happy with your backroom team already but if you want to stamp your authority and bring in your own recruits then these guys are certainly capable of doing your dirty work...
Please note that the information in this article has been taken from the Football Manager 2016 Beta Version. The full version of the game will be released on November 13th, 2015.
20. Manfred Schmid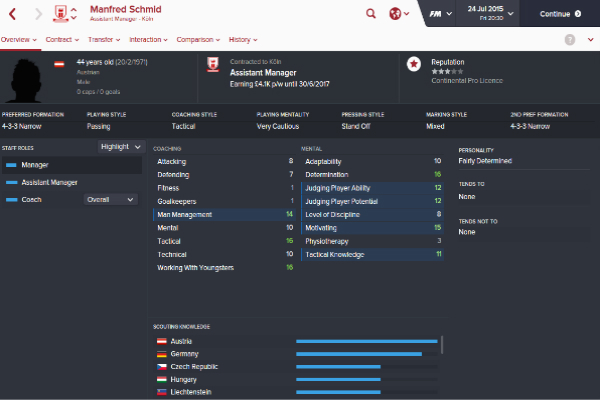 Age: 44
Club: Koln Tactical Knowledge: 16 Man Management: 14 Coaching Style: Tactical Preferred Formation: 4-3-3 Qualification: Continental Pro License Manfred Schmid became assistant coach of FC Köln after the 2012€"13 season. He has had talks with Austria Wien about the vacant head coach's job but Köln refused to release him. Aged just 44, you could really build something with the coach and his attributes are very impressive.