Football Manager 2016: 20 Wonderkids You Must Sign
Tonton Zola-Moukoko would be proud...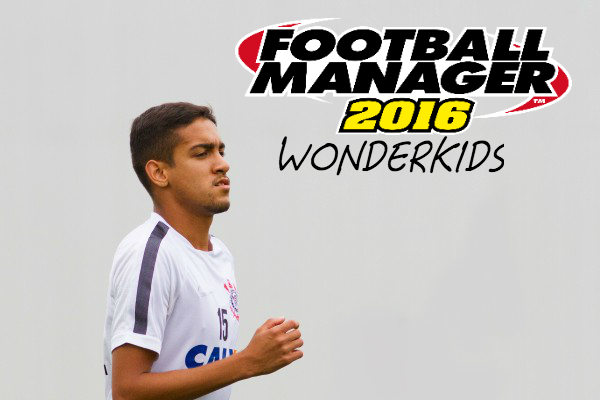 Question:
Name the best thing about Football Manager?
Answer:
Discovering the next generation of relatively unknown footballers who are destined to take over the world in the next few years and acting as a virtual father figure throughout your FM experience?
Correct.
So, here we are again. The latest version of the beautiful football management simulation is upon us and it's time to scour the gloriously detailed database and unearth the 16-18 year olds that are going to help your side gather some silverware. Now, locating these untainted hidden jewels can often be even more pleasing than a successful Champions League run or putting six goals past Manchester United and it's the main reason (along with the excellent new features) that fans of the series continue to purchase the latest version of the game every year. Let me give you some names. Cherno Samba, Kennedy Bakircioglu, To Madeira, Freddy Adu and Mark Kerr. I could go on. These guys were just normal footballers before the Championship Manager/Football Manager series elevated them to virtual stardom. Now, the bar has been raised. We're no longer in search of a humorous player who we can tell our mates about. Nowadays, we're looking for a genuine obscure future-superstar who in the not so distant future will sign for a top level side and we can say that we discovered him first. I've spent a good few days playing on the FM16 Beta version and have put together a list of the best young talent on the game. None of the players are older than 18 and therefore you will need to take care with their development in order to see them progress into first class footballers.
Good luck
.
Please note that the information in this article has been taken from the Football Manager 2016 Beta Version. The full version of the game will be released on November 13th, 2015.
20. Donyell Malen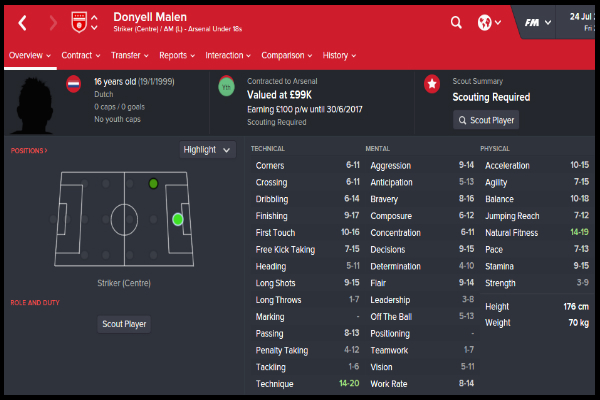 Age: 16
Club: Arsenal Position: Striker Value: £99k Arsenal signed Ajax's Donyell Malen
last summer
after the player impressed for Ajax's B1 youth team. The player is widely regarded as a fantastic talent and the 16-year-old striker has extremely impressive statistics for such a young footballer. The player is available to loan at the start of the 2015-16 season on Football Manager 2016 and Arsenal are keen to develop him by sending him out to a number of clubs. Around the 2019-20 season Malen is able to compete at Champions League level and is valued around £8-10 million.