Football Manager 2017: 20 Best Assistant Managers
Can't find the Carlos Queiroz to your Alex Ferguson? We've got you covered.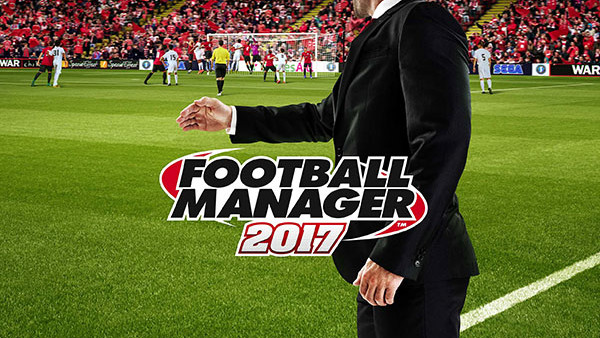 Frodo had Samwise, Robert Baratheon had Ned Stark, and Captain Kirk had Mr. Spock: behind every great leader, there's a great right hand man, and it's no different in Football Manager.
Picking a great Assistant Manager is one of the game's most important tasks, and getting it right will make your life a whole lot easier. Whether you need someone to handle training, arrange friendlies, set opposition instructions, or just motivate/hurl abuse at the players at half-time, finding the right candidate takes a while, and there are thousands of potential options.
Stats-wise, there are a number of things worth taking into account. FM reckons that Man Management, Judging Player Potential, and Judging Player Ability are all you need. These are fine if you're looking for someone who can tell you whether your players suck or not, but you must dig deeper if you want more than a glorified scout.
Level of Discipline, Motivation, Man Management, and Determination are key if you want an assistant who can handle the players and media alike. Additionally, if you're after someone who can help your gameplans and instructions, Tactical Knowledge is absolutely key.
There are a number of great assistant managers in FM 2017, but very few tick all the boxes. Fortunately, we've tracked down the elite options.
Here are the 20 best Assistant Managers in Football Manager 2017.
20. Marco Domenichini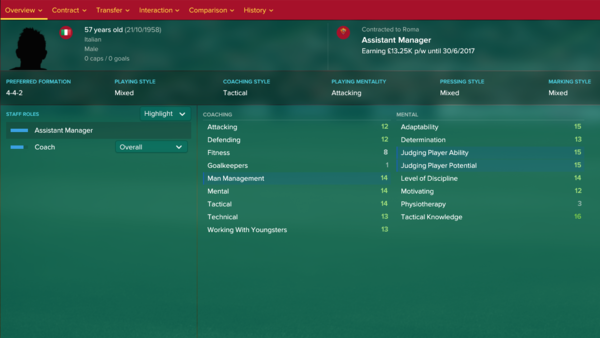 Age: 57.
Club: AS Roma.
Key Stats: 16 Tactical Knowledge, 15 Judging Player Ability, 14 Level of Discipline/Man Management.
An expensive choice with his £13,250 p/w starting salary, but a solid all-round option. Marco Domenichini comes with strong statistics across the board, though his close bond with current Roma manager Luciano Spalletti makes him tough to get hold of.
Still, if you ever get the opportunity to snap Domenichini up for little/no compensation, he's more than worthy of your consideration. His only real weaknesses are Fitness and Goalkeeper coaching, and let's be honest, you probably won't be asking your assistant to fill those roles anyway.