Football Manager 2017: 20 Free Agents You Must Sign
Not everyone has to cost Pogba money...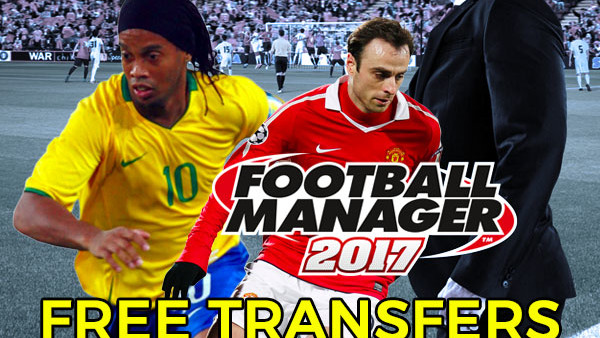 When Football Manager rolls around every year, one of the first questions any discerning manager worth their salt will ask themselves concerns what bargains they can pick up. If they can get some talent in for free, that's even more of a bonus: as long as those players are able to impact the first team in a tangible way (rather than trading on their names and past glories), scouring the Free Transfer market is a very smart move.
In some cases, you can pick up players not even at the end of their careers: whether because of contract disputes or simple accidents of fate, and if those players can then be turned over later for 100% profit, you're laughing. This comprehensive look at the best Free options in the game (based on the Beta build) takes in both those players and the legends looking for a final pay-day who won't suddenly go all QPR on you.
There are other options of course: the likes of Kevin Nolan, Bobby Zamora and Kevin Kuranyi are available for nothing, but at their ages they represent a slightly higher level of risk for potentially less impact. Plus, their wages would probably cost you a fair amount for squad fillers.
By now, pre-orderers will be into the game (which is as fresh and exciting as every year), so it's about time we start looking at the signings you have to make from day one, including possible form (from a few simmed seasons) and onward value.
NB: All images here are from the Beta build of the game, so you can reasonably expect some changes on full release.
20. Charles N'Zogbia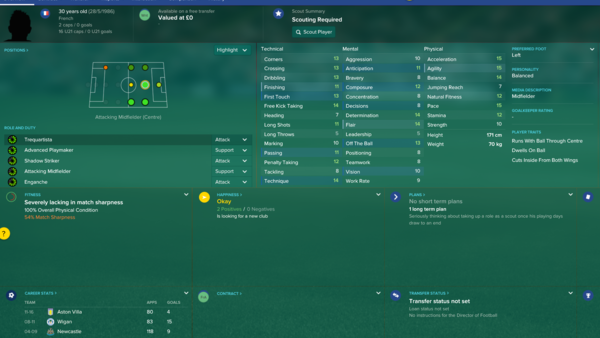 Age: 30
Position: AM/M RLC
N'Zogbia may be a little notorious for his poor work ethic and delusions of grandeur, but his versatility and some pretty solid (if unspectacular) stats make him a strong addition to lower level Premier League teams and below. He might even shock you how well he does.
Potential Value: £1.6m
Incredibly, the Frenchman won't cost you a lot in wages (how relegation changes a man), but after he is capable of impressive ratings even at his age. After a season, he was at 7.4, having chalked up 4 assists in 21 games, so there's definitely some value there.