Football Manager 2017: 20 Right-Backs You Must Sign
Unearthing the next Dani Alves has never been simpler.
An excellent full-back probably isn't going to single-handedly win or lose the league for his club, but left and right-back have become two of the modern game's most important roles. Full-backs provide a vital link between defence and attack, and require a unique blend of defensive solidity, attacking prowess, and explosive athleticism to become a top-level asset.
It's not enough to have a set of "acceptable" full-backs anymore, and no team makes it to the highest level without the right players in these positions. It's the same in Football Manager 2017, but as important as these players are, they're not always easy to find.
World class right-backs are particularly thin on the ground in FM 2017, and finding the best option can prove tricky. The likes of Dani Carvajal stand as the game's most exciting RB options, but their clubs won't be letting go of them anytime soon, while other standouts like Pablo Zabaleta and Stephan Lichsteiner are on the wrong side of 30 and starting to decline.
Thus, it takes a lot of groundwork to fill that troublesome right-back spot. FM 2017 isn't completely bereft of top notch RBs, however, and from ready-made superstars to promising youngsters, there's a host of quality talent lurking beneath the surface.
Here are 20 of the best.
20. Petar Stojanovic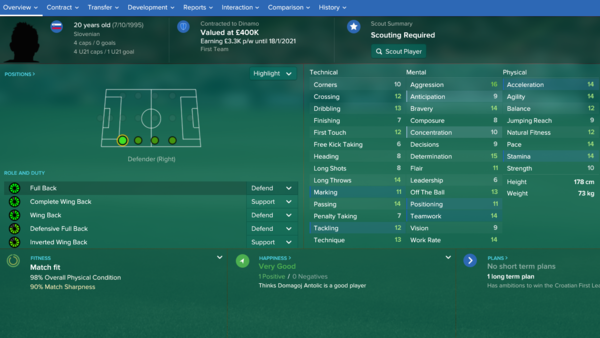 Age: 20
Club: Dinamo Zagreb
Wage: £3.3k p/w
Value: £400k
Slovenian international Petar Stojanovic isn't the finished article at the start of the game, but he's more than good enough to star for a Championship or lower Premier League side.
He comes with solid defensive and attacking stats across the board, and will quietly develop into one of FM 2017's most effective right-backs with some nurturing. Available for a cut price fee, Stojanovic's potential represents excellent value for money.