Football Manager 2022: 10 English Wonderkids You Must Sign
The best Football Manager 2022 wonderkids coming from England.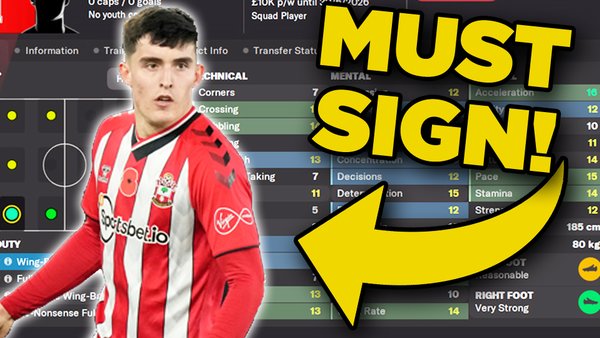 If you are managing in the Premier League in your Football Manager 2022 save, then you probably know how hard it is to sign foreign wonderkids. No matter how much money you have in your budget or how big of a club you are managing, those work permit issues creep up to ruin your squad building plans.
While Tanguy Nianzou, Kaiky, Josko Gvardiol, Rafael Luis, Alan Velasco, Angelo and Matias Arezo might be some of the names who immediately caught your - and your scouts' - eye, BPL sides can majorly struggle to land such starlets due to an inability to get a work permit granted. It sucks, it's a spanner in your plans, and it means that you'll often have to make alternative plans.
On that front, we've put together a list of the best English wonderkids that have all the talent and potential in the world, but none of the registration headaches. Some of them will cost you a pretty penny, but others can be bought on the cheap.
Ring up your scouts, prepare your cheque book, and delve into this list of talented English under-20 prospects.
10. Luke Mbete (Manchester City)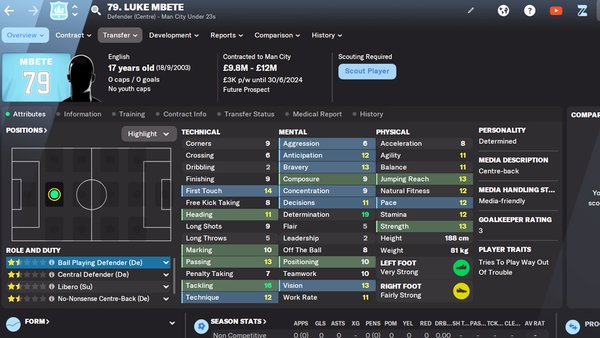 Since the list is limited to players aged 20 and under, a certain other Manchester City Englishman will not be included, but Luke Mbete definitely earns his spot.
Mbete is a skillful ball-playing centre-back who can fit into a number of different systems, with his strong left foot making him a great option as the left central defender in back-three formations. He is decently developed even at the start of the game but has the potential to become even better.
With a price estimated between £9.6 - 25 million, he is a relatively cheap option when it comes to prying players away from the Etihad, and with a long queue of defenders above him in the hierarchy, it should not be too difficult to persuade him to leave the Cityzens by offering him regular playing time.