Football Manager 2022: 10 Wonderkids To Sign From South America
The best Wonderkids that South America has to offer.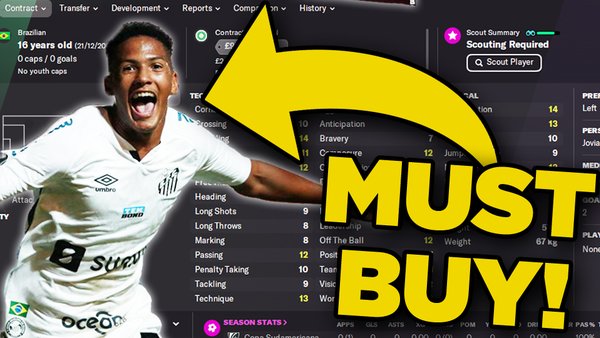 Anyone with even a passing interest in Football will likely be all too aware that South American countries, in particular Brazil and Argentina, churn out talented footballers like nobody's business. Therefore in Sports Interactive's highly addictive annual football management sim it is always a good idea to send a scout to scour South America for future talent.
This list is only looking at players that are still plying their trade in South America, so the likes of Real Madrid's Rodrygo, Vinicius Junior and Watford's Joao Pedro, who have all made the trip to Europe, will not be considered for this list.
Each entry will also include the Potential Ability rating for that player, which for the unfamiliar is a rating out of 200 that indicates just how good a player can become. For young players in the game this will often be a range in which a fixed number within that range will be allocated at the beginning of a save, making for a varied experience between different saves.
With all of that out of the way, let's dive in for ten South American Wonderkids that you need to snap up for your save on Football Manager 2022.
10. Calegari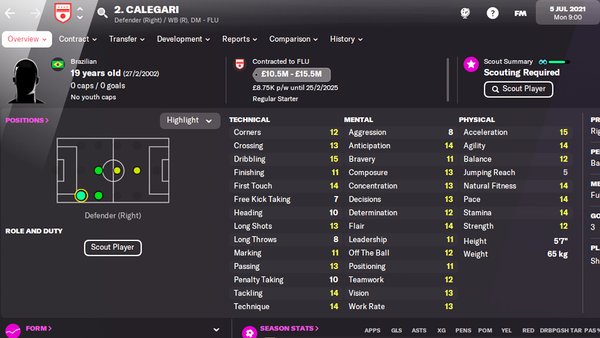 Club: FLU
Nationality: Brazilian
Position(s): D(R), WB(R), DM
Potential Ability (PA): 140 - 170
Top level wing-backs are somewhat hard to come by in this year's iteration of Football Manager, as last year's fan favourite, Sporting's Nuno Mendes, is on loan at PSG and will likely join them permanently before the loan expires, making him almost impossible to get early on. Therefore, those looking to strengthen the right side of their defence may have to pony up the big bucks to do so.
However, there just so happens to be a potentially top-tier right-back plying their trade for Fluminense in the Brazilian top-flight.
With a PA in the range of 140 - 170, Caligari could become one of the best right-backs in the game if you manage to get a decent version of him when starting your save. The marauding full-back, who can also step in at defensive midfield, has a release clause of £34million at the start of the game, which may sound steep at first but when you consider he could be one of the best right-backs in football in the future it could wind up being an absolute steal in the long run.