Football Manager 2022: 10 Wonderkids You Must Sign
Grab your Chequebooks and sign these Wonderkids whatever the price.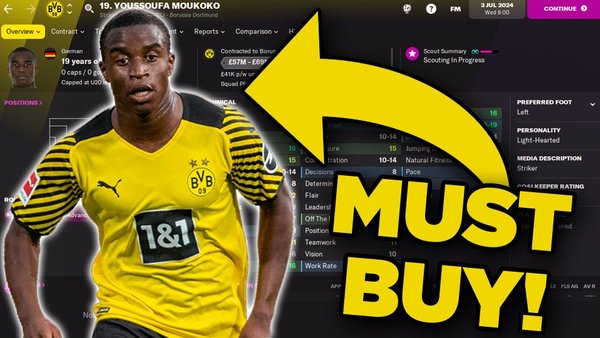 The mystical 'Wonderkid' is a coveted resource in the world of Football Manager and refers to the young players in the game that are destined for superstardom. Any Football Manager veteran will likely snap up more of these players than they know what to do with before forcing them to play together in an awkward formation just to get them all on the pitch at the same time.
For the unfamiliar, players are given a Current Ability rating and a Potential Ability rating, which are each marked out of 200 and relate to a player's individual attributes. The Current Ability rating will - you've guessed it - tell you how good a player is now and the Potential Ability rating will tell you how good that player could be in the future. Most of the players on this list will have a Potential Ability range assigned to them as opposed to a fixed value, which simply means that a value within this range will be assigned as their Potential Ability at the start of every save. This is done to replicate the unpredictability of real world football and to also keep things interesting across different saves.
To keep things interesting, obvious Wonderkids such as Erling Haaland, Pedri, Kylian Mbappe and Eduardo Camavinga, to name but a few, will not appear on this list. Instead we will be focusing on players still a few years away from superstardom.
10. Maarten Vandevoort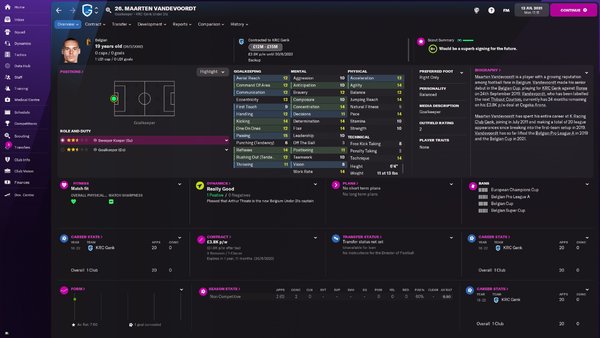 Position(s): GK
Nationality: BEL
Club: Genk
Age: 19
No matter what tactic you choose to use in Football Manager you will always need a safe pair of hands between the sticks and snapping up a young goalkeeper with bags of potential will mean that you don't have to worry about that position for a long time. A name that should be familiar to most Football Manager aficionados by now should be Maaten Vandevoort who plays in the Belgium Jupiler Pro League for KRC Genk.
Still only 19 years old despite over 30 appearances for the Senior team at Genk, the Belgian youth international has his career ahead of him and was the youngest ever goalkeeper to make an appearance in the UEFA Champions League. With a Potential Ability rating of 140 - 170, Vandevoort should be the first port of call for those looking for a long-term option in net.