Lucasfilm ENDS EA's Star Wars Deal, Ubisoft Game Confirmed
Lucasfilm Games announces new open-world Star Wars title from Ubisoft, ending EA's exclusive deal.
It has been quite the week for Lucasfilm Games.
Hot on the heels of unveiling a new rebrand, the company also announced a new Indiana Jones title in the works at Bethesda earlier this week. The announcements have kept on coming too, with the group today revealing that Ubisoft's Massive Entertainment are working on an open-world Star Wars title, signalling the end of the controversial exclusivity deal with EA that locked other studios out of the Star Wars IP.
The announcement, first revealed by WIRED on Wednesday, signals a shift in Lucasfilm's approach to the gaming industry. Whereas before they had taken more of a hands off approach, giving carte blanche to EA to do whatever they wished with the Star Wars license (within reason), it looks as though they're going to be more selective from now on, mirroring Marvel's strategy instead, and inviting pitches from different studios and publishers.
Interestingly, this doesn't mean that EA's Star Wars reign is at an end. Disney's Sean Shoptaw clarified to WIRED "that EA has been and will continue to be a very strategic and important partner for us now and going forward." With that in mind, it would be wise to still anticipate sequels to Star Wars Jedi: Fallen Order and Star Wars Battlefront in the future, with Respawn heavily rumoured to be busy at work on the former.
As for Massive Entertainment's Star Wars title, the project will be headed up by Julian Gerighty, creative director of The Division 2, and will also utilise Ubisoft's Snowdrop Engine.
There's no other info on the title as of yet, but Ubisoft CEO Yves Guillemot promises "an original Star Wars adventure that is different from anything that has been done before."
The ULTIMATE Star Wars Video Games Quiz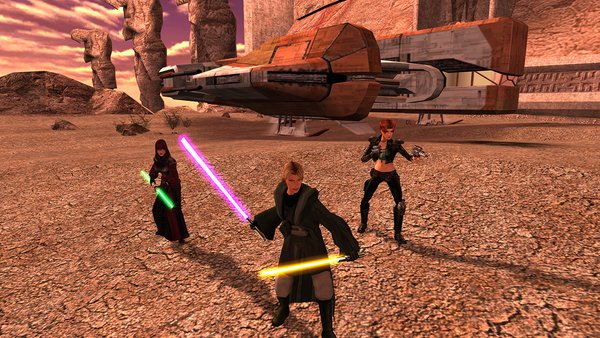 1. What Was The FIRST Star Wars Video Game?