Mario Kart Is Coming To Super Nintendo World At Universal Studios Hollywood In 2023
More Details Unleashed About Mario Kart: Bowser's Challenge.
Starting early 2023 at Universal Studios Hollywood, you will be able to enter the colourful world of Mario, Luigi and Princess Peach.
Entering through the "iconic" Warp Pipe, you'll find yourself in Super Nintendo World. Thw immersive land that will transport you right into your favourite video games.
Mario Kart: Bowser's Challenge takes you on an interactive ride "where no two races are alike". Within the dungeons of Bowser's Castle you'll race with your friends and family, hop into the "stadium-style" Kart, then at Lakitu's signal you'll be in the race of your life.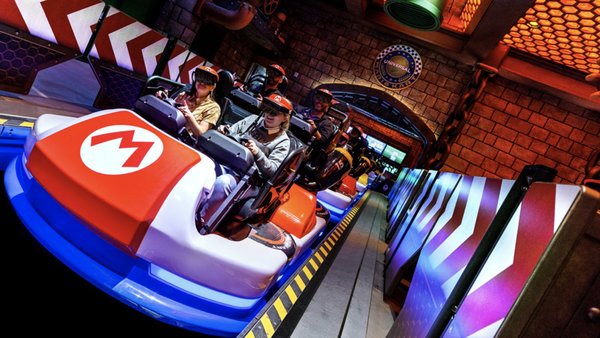 Heading into unique courses including going "underwater" and into the "clouds"; you'll be scoring coins in order to defeat Team Bowser and win the Golden Cup. You don't need to be a Mario Kart expert to enjoy the ride. From those who've been playing Mario for decades, to the youngsters in your group who are just discovering him for the first time, everyone will have fun on the attraction.
The ride is one of the most "sophisticated" ever built. Mario Kart: Bowser's Challenge uses projection mapping technology and AR technology to make you feel like you have fallen right into the famous video game. You'll want to ride it again and again as each time will be different.
Super Nintendo World and Mario Kart: Bowser's Challenge will be opening its doors to guests early next year. With even more details about the new area at Universal Studios Hollywood to be revealed, we can't wait to find out everything that waits in store at the new land.