Pokemon GO's Sightings Feature To Receive ANOTHER Overhaul?
Third time's the charm...
Despite having just released an update correcting several of the tracking bugs in Pokémon GO, developers Niantic Labs aren't quite finished with overhauling the system.
Niantic have selected a handful of players to Beta test the brand new tracking system and the results we've seen on social media look rather remarkable to say the least. Dividing the tracker into two sections, "nearby" and "sightings" (both terms we've been introduced to before), finding Pokémon in the wild now seems to be more targeted and a lot less frustrating.
First off, the new "nearby" system shows images of specific Pokémon standing by the image of their nearest Pokéstop. Tapping on these images brings up a top down view of your surroundings and highlights the area you should head over to with a marker. This new method of Pokémon tracking looks to be much more accurate and could mean that aimlessly venturing back on fourth on your quest - something that's gradually worn down a lot of player's interest in the game - will become a thing of the past.
The sightings section of the tracker introduced in the last update remains pretty much the same, showing images of wild Pokémon in front of some grass basically means they're just around and about in the wild. Hopefully it's only the common Pokémon, or the bridge-pinchers (look it up) like Pidgey and Rattata, as we've found more than enough of those pests already. Some screenshots have surfaced via NeoGAF showing the new system and it looks to be a colossal improvement over the former attempts at Pokémon tracking.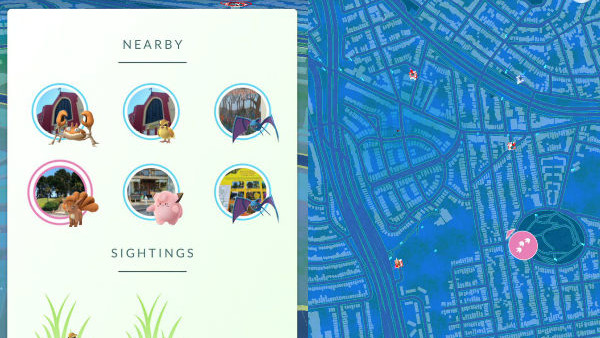 However, if I have one minor niggle with the new update it seems as though Pokémon tracking will be a lot more focused on Pokéstops now. Which isn't the best news for those who live amongst fields of green, away from built-up, more populated areas. Although if this is the route Niantic are heading in, I can imagine players everywhere will start to notice newer Pokéstops appearing in their local areas.
The new tracking system will also alert the player when a wild Pokémon spawn has depleted. Something that players noticed with the introduction of Pokévison, was that less common Pokemon spawned in certain nests each with time limits. Now the new tracker will let the player know if a Pokémon spawn has ran out before the player had chance to reach it, something that will save a lot of wandering around teary-eyed, fuelled-by-hope-alone disappointment. Twitter user Jackson Palmer uploaded a short video showing the new tracker in action, and the updated version looks to be a much more efficient way of acquiring new Pokemon for your collection.
As yet there's no word on when the updated tracker will be rolled out to all users, but if Niantic are waiting on feedback for the system we can save them some time; it looks great, it's exactly what most players want, just give it to us, thanks.
But what do you think? Do you think this new tracker will live up to expectations? Leave your comments in the thread below, happy hunting.