Quantum Break Review - An Ambitious But Ultimately Exhausting Experience
Sadly, this isn't going to be the system-seller the Xbox One needs.
Rating: ˜…˜…˜…˜†˜† Length: Approx. 7 hours (plus 80 minutes for the TV component) Platform & Performance: Xbox One - Solid frame rate, no noticeable bugs, occasional texture pop-in.
If the name David Cage means something to you, and you like what games like Heavy Rain or Beyond: Two Souls were going for - the whole 'super neat idea trapped in a fumbled execution' ideology - you'll grow to admire and perhaps love Quantum Break.
A narrative-heavy third-person shooter, I say 'admire' first, because it's a very hard game to love, despite Remedy creating what is easily one of the most ambitious and riveting projects in gaming history. Over the years, the developer has gone from pioneering 'bullet time' with Max Payne, to flexing their narrative muscles in Alan Wake. Both projects were love letters to noir filmmaking and supernatural horror respectively and, with Quantum Break, it's a nod to action movies of the 90s and barmy sci-fi plots simultaneously, producing something we'll be dissecting for years to come - just not necessarily for the most positive of reasons.
Shaun 'Iceman' Ashmore, Aidan 'Littlefinger' Gillen and Dominic 'Either Merry Or Pippin I Can Never Remember' Monaghan head up the cast in both digital and live-action form as the hero, his best friend and brother respectively, the latter being genius scientist William Joyce, who has happened upon the secret to manipulating time.
Once that knowledge is out there, a botched experiment breaks the flow of time itself, heralding in apocalyptic visions of a nightmarish future where all life simply stops, and gracing Ashmore and Gillen's characters with fancy time-bending abilities. It turns out the latter is not as friendly as his introductory sequence made him out to be, and in fact he's heading up a secretive corporation called Monarch who appear to have Sinister Intentions, as they just might have a hand in all this time-breaking tomfoolery. Cue a quest to restore the flow of time, copious amounts of slow-motion shooting, bodies pinwheeling through the air and, well, laughing as everybody insists on saying variations of "We're out of TIME!" every few minutes.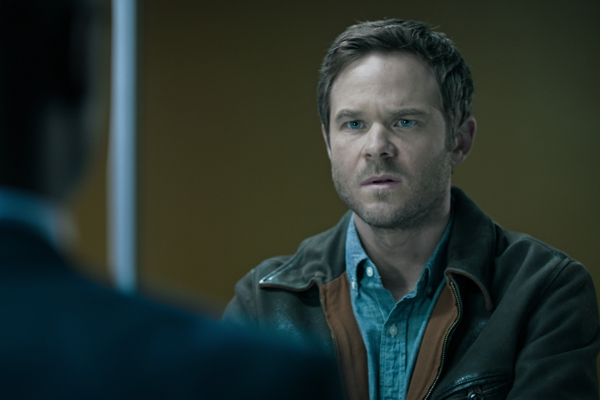 Alongside this, you've got the revolutionary idea of filming a film's worth of live-action content, which is split up into multiple 20 minute episodes that conclude the first four acts of a five-act structure. They're intended to 'flesh out the world of Quantum Break', as a choice you make at the close of one chapter dictates how both the TV show and game will then play out. Scenes are compiled and stitched together almost entirely from these binary decisions, with mostly minor elements changing such as what an in-world news report may be talking about, but certain actors and a couple of very cool scenes later on only reveal themselves under specific pathways.
For all the talk of how the live-action component would 'respond' to your actions in-game, it boils down to triggering one of two variations on an episode overall, with occasional in-game secrets you've found slotting in to form additional scenes. A very early example is having brother William interact with a formula on a Monarch building whiteboard, only for a scene to show an employee remarking to his colleague that "someone" has completed it.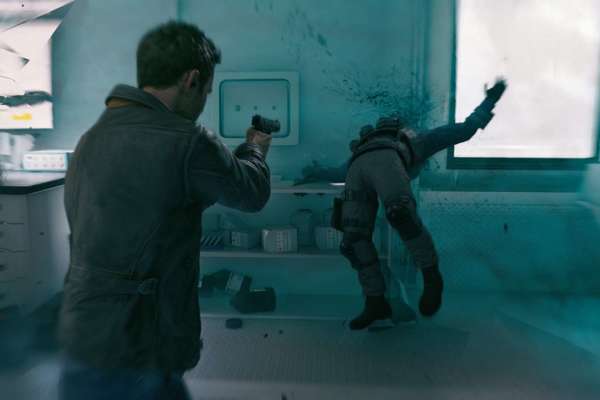 Sadly, outside one particular character only showing their true nature if you've stacked the deck a certain way, choices don't feel like they have truly meaningful repercussions once you start lining up the variations side-by-side. The four key decisions feel tangentially related at best, as opposed to building on one another. It's less a case of how Mass Effect would continue to juggle more and more consequential factors in a way that results in various, satisfyingly unique outcomes, and more that Quantum Break has a defined story to tell no matter what.
There are good characters, bad characters, setups and resolutions. Rather like Heavy Rain, Remedy designed these split paths to weave around the narrative's core strand, and in the pursuit of a fixed resolution, things can only flex so much. The Witcher 2 (where taking a particular path meant you didn't see entire cities CD Projekt RED had designed) this ain't.
Next, the things Quantum Break absolutely nails. The TV show is ace, it's just a shame it houses the best characters that barely appear in the game. Also, there's a reason the TV show has been the focus so far...