Saints Row IV: Enter The Dominatrix DLC Review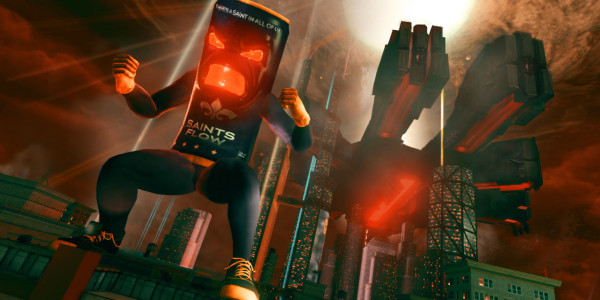 rating: 4
The Enter The Dominatrix download content for Saints Row IV has had a fascinating journey to get from announcement to be playable on your consoles. Originally announced as a download pack for Saints Row: The Third, Enter The Dominatrix was later cancelled as it had been decided that the idea would be utilised as the basis for Saints Row IV. Saints Row IV came a couple of months back and as it turns out, despite the ideas being taken from the previous game's DLC and fleshed out into an entire game, there were still more ideas to load into DLC for the new game, so Enter The Dominatrix regained its status as a download pack. So it's gone full circle in a sense...but on a different game. History lessons aside Enter The Dominatrix is exactly the kind of crazy weird 'the developers must have been high when they pitched this' bonkers fun you have probably come to expect from the Saints Row series. I won't give away spoilers for the ending, but it's a really funny ending that would easily feel at home in something like Futurama or Family Guy (the former as it fits the themes, the latter for its quirkiness). This content certainly gives you what is probably the escape/victory theme song ever in a game which made me laugh out loud.
As the title suggests Enter The Dominatrix does take some cues from The Matrix (The title itself closely resembles the old Enter The Matrix game on PS2 - remember that?). Like in the famous Keanu Reeves movie you play inside a virtual world after being plugged into familiar looking pods. Strangely the story is linked by the characters talking about the events in retrospect, and mocking some of its intentionally lame plot. This allows the plot to keep moving and you can quickly garner some of the nifty super powers which will help you feel more like Neo and which are a blast to play around with. Freezing enemies, and smashing them like the T1000, and leaping and gliding around like Superman should be a feature in every game. The Dominatrix of the title is the main boss you must overcome in this DLC, and whilst a acceptable enough is hardly an original idea for a Matrix parody. Not that I'd know of course, but you can bet that a Matrix parody based on a dominatrix has been floating around probably since before the original movie hit cinemas. If you're a huge Saints Row fan you'll certainly have fun with this, although don't expect this to be groundbreaking (which to be honest isn't something any gamer should expect from DLC). It should give you a couple of hours of new content if you choose to savoir it rather than inhale it, and is certainly worthy of the odd replay. The good news is that like the original release of Saints Row IV this is very playable, and the game play is as good as ever. The plot is a bit weak, but this intentional and shouldn't put you off playing. Is this DLC essential? No, but it definitely worth it if you couldn't get enough of Saints Row. I give the DLC 4 out of 5
We need more writers about Reviews and Saints Row IV! Get started below...
Create Content and Get Paid
---
David Pustansky
Hello! My name is David Pustansky. As well as writing for this site, I'm also an actor, presenter, writer, director and artist. So basically I love creative things where there's a story to be told. I run my own theatre company, The ImProDigies. Be sure to check our shows out. As I'm sure you'll see from my articles I often look into things with a unique and quirky perspective and have a strange attention to sometimes strange details. Enjoy!
See more from David