Secretlab 'League Of Legends' Gaming Chair Review
Sit in a seat made for champions.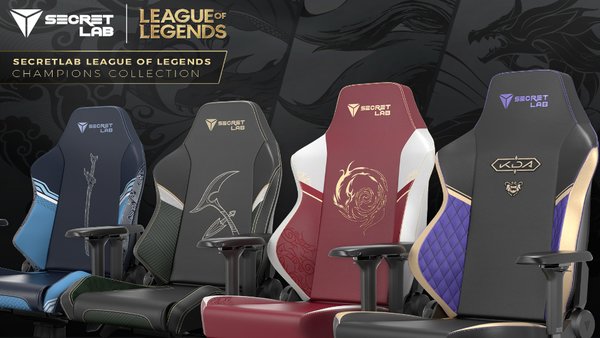 What do you look for in a brand spanking new gaming chair? A padded base that'll keep you comfortable during epic online sessions late into the night? Style that pops, impresses friends and gives your room an elite, bespoke look? How about armrests that are easy on the elbows without ever getting in the way of your play?
If it's any or all of the above, then you need to seriously consider Secretlab's new 'Champions Collection' series.
Secretlab, who have been making high-grade gaming chairs since 2014 and have sold over 500,000 units worldwide, have partnered up with Riot Games to launch a League Of Legends tie-in that gamers will absolutely love.
League Of Legends players will specifically adore the unique designs patterned after Ionian champions Akali, Ahri and Yasuo. Others who want something even more different might plump for the special purple and gold K/DA Edition (based on Akali's pop star incarnation as a member of in-game band K/DA).
The cool thing here is that each chair has something unique to help it appeal to different gamers. Secretlab reportedly did a ton of experimentation with different materials and textures to ensure that they all feel exclusive and stand (or sit) apart from one another.
That's some nifty dedication to the cause, and something to keep in mind when buying.
The K/DA Edition chair is upholstered in plush purple and gold and features Akali's signature dragon stitched with an elaborate gold thread on the rear. The other Akali Edition comes with a sweet-looking dragon tattoo motif on the rear. Meanwhile, the Ahri Edition is upholstered in a gorgeous deep wine red colour.
Finally, there's the Yasuo seat, which is this reviewer's personal favourite. The deep navy weave Secretlab coloured this one with instantly evokes the character's signature armour, and the weave has this awesome rope-ish style to it that just looks classy.
There's lots to choose from in terms of different styles and materials, but they're all carefully designed to be some of the most comfortable gaming chairs on the market.
Secretlab co-founder and CEO Ian Alexander Ang said, "We're thrilled to build on our longstanding partnership with Riot Games for its global esports tournaments and bring the world's first ever of official League Of Legends Champions seats to millions of gamers, giving them the opportunity to own a chair that is truly representative of the look and feel of the League Of Legends universe and its champions".
He also hit the nail on the head by describing each chair as a "treat" - they're comfortable without being too soft, meaning you're not going to suffer later if you can't tear yourself away from your game of choice five or six hours deep.
League Of Legends celebrated its 10th anniversary last year, so Riot Games obviously wanted something special that'd commemorate the game for hardcore fans. By enlisting Secretlab's help, they've smartly created products that even those who don't play the game will love.
Honestly, these are ideal for any gaming session, and even work as a deluxe office chair if you're looking to be good to yourself. This reviewer can't really find fault with any aspect of these seats, which is really a credit to Secretlab's design and attention to detail.
Arguably the best thing about these chairs is that they marry the customised comfort Secretlab has become known for amongst gamers with some sumptuous artwork that's appealing on the eye. Again, if you're looking for comfort and style, then you've probably found your next gaming chair.
Riot Games are excited about what Secretlab has produced here, and rightly so. These seats come highly recommended if you're on the hunt for something elegant and durable.
You can find regional pricing for each individual chair from the 'Champions Collection' by visiting Secretlab's official League Of Legends mini-site.