Super Nintendo World Opens In Universal Studios Hollywood On February 17th
Get ready to jump into the world of Mario and Luigi!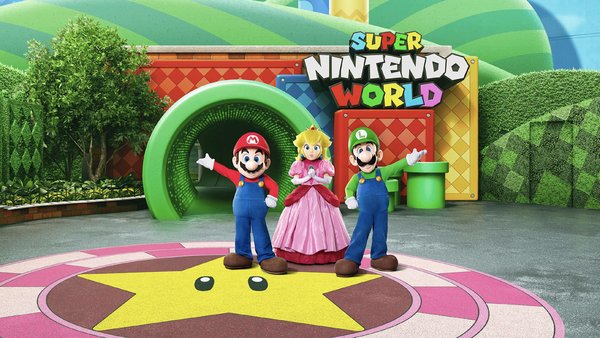 Today came the news all Nintendo fans have been eagerly waiting for. Universal Studios Hollywood have announced that Super Nintendo World will be opening its doors on 17th February 2023.
That's just around the corner!
Get ready to head through the warp pipe and meet Mario, Luigi and Princess Peach as you take on all the fun of the Mushroom Kingdom.
The new land will feature a brand new attraction, the Mario Kart: Bowser's Challenge ride. Here you will hop aboard your own kart and thanks to AR projection mapping technology and real set pieces you'll hop into a huge Mario Kart game.
In Mario Kart: Bowser's Challenge, you'll don your AR goggles and "navigate familiar courses". You don't need to be a gamer to enjoy the new attraction. Every member of the family can join Team Mario and try to win the Golden Cup. With lots of different outcomes you can go from under the water to up in the clouds to see if you can come out the winner!
You can find the find in the heart of Bowser's Castle with plenty of trophies along its winding corridors. Here you can learn just what Bowser plans to do in order to defeat Mario.
The new Super Nintendo World has lots more to explore. You can spot Mount Beanpole and explore the 1-UP Factory and all the merchandise that's for sale.
If you love to snack then a trip to Toadstool Cafe will be high on your list. Ran by Chef Toad (who is set to met you on the way in), there's fresh menu options to grab. You can pick up "Toadstool Cheesy Garlic Knots, Super Mushroom Soup, Piranha Plant Caprese, Mario Bacon Cheeseburger, Luigi Pesto Chicken Burger, Block Tiramisu and Princess Peach Cupcake."
Super Nintendo World is full of lots of interactive fun. You can purchase a Power-Up Band and star in your very own Nintendo game. The Power-Up Bands, along with the park's downloadable app, allows you to collect digital coins around the land.
Compete against your group, and everyone else, as you take on the four Key Challenges. Take on Goomba, Koopa Troopa, Piranha Plant and Thwomp's interactive activities. Finishing in the ultimate challenge as you face Bowser Jr in a boss battle.
You'll be able to pick up your chosen Power-Up Band not just in the new land but in many locations across the park and in CityWalk.
With Super Nintendo World opening in just a couple of months, there's so much to be excited for at Universal Studios Hollywood in 2023.
Create Content and Get Paid
---