WWE 2K15: 'One More Match' DLC & Update Patch 1.03 Available Now!
More content is available... Yay! But you'll have to pay for it...Boo!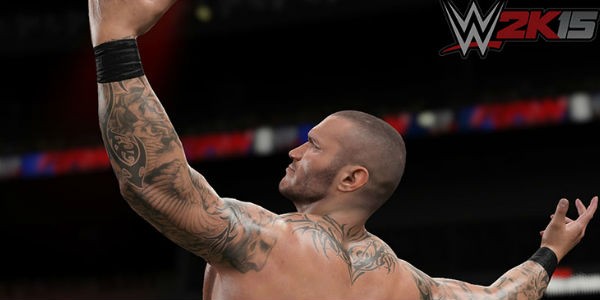 2K Sports has released the first additional DLC showcase mode 'One More Match' and patch update 1.03 for WWE 2K15. 2K15's latest DLC chronicles every significant moment from Christian and Randy Orton's World Heavyweight Championship programme from 2011 where the question was asked: Could Captain Charisma reclaim the big one? Let's allow the developers to set the scene for you, 2K Sports said: "One More Match enables players to experience Christian's triumph and heartbreak throughout the year, including winning the WWE World Heavyweight Championship at Extreme Rules, losing it one night later to Orton and turning his back on his best friend, Edge." During the showcase you are able to play as The Apex Predator, Captain Charisma, Edge, Sheamus and Mark Henry as you make your way through SmackDown€™s week-to-week story line and pay-per-view matches at Extreme Rules, Over the Limit and Capitol Punishment. The new content marks the first addition to the game's Showcase mode. Future DLC packs include Mark Henry's "Hall of Pain" and "Path of the Warrior" featuring WWE Hall of Famer Ultimate Warrior. For a full run down of the DLC packs, click
here
. With the pleasantries out of the way, it's now time for some bad news. Gamers who want to play this showcase mode will have to pay for it. One More Match is available via Xbox Live for Xbox One and Xbox 360 as well as the PlayStation Network for PlayStation 4 and PS3 for $9.99 (£6.57), or you can get all three planned Showcase expansions for $24.99 (£16.42) with the Season Pass. As well as the three additional showcase modes, the season pass gives you Paige as an exclusive character. https://www.youtube.com/watch?v=NdunrLFqeBs Meanwhile, the patch's main goal is to address a few issues with 2K15's gameplay and a few bugs that have wormed their way in. However, a number of gamers have reported that after the patch was downloaded to their console, they couldn't get past the John Cena loading screen at the very start of the game. 2K Sports hasn't commented on these claims as yet. If you experience any problems with the new patch, let me know @
WhatCultureTwed
. The notes for the update are as follows:
-Fixed functionality for €œOne More Match€. -Fixed an exploit with the €œFacebuster Knee Smash€. -Addressed a number of issues in WWE Creations. -Addressed issues with alternate attires appearing properly in cutscenes in WWE Universe. -Crowd reactions should now occur properly according to the settings in the Edit Superstar menu.
For many, the patch will automatically appear as downloaded when you turn your PS4 or Xbox One consoles on. However, PS3 and Xbox 360 users may have to wait a bit longer for the patch as nor WWE or 2K have announced when it will be released. It shouldn't be too long though as it has been well over a month since the game received its last patch half way through December. Patch 1.03 is over 376MB in size. 2K Sports has announced that more patches will be released later this year to address any further issues WWE 2K15. If you have any problems, all you need to do is let 2K know so they can fix them.
Want to write about WWE 2K15? Get started below...
Create Content and Get Paid
---