WWE 2K16 Full Roster Leaked
There's a few shocks in here to say the least...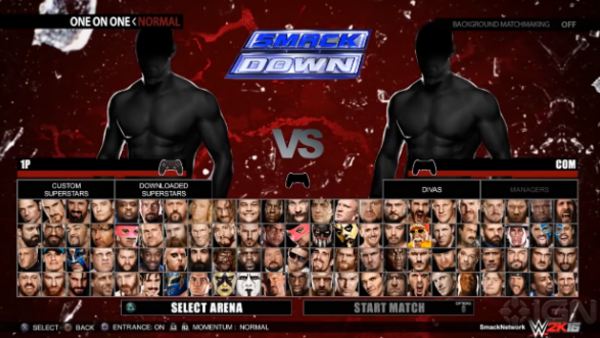 A new
video
posted by IGN has apparently revealed the (almost) full roster for WWE 2K16. It is common knowledge now that the new game will have a bumper roster of 120 unique characters, but the list below falls a few short of that while Hulk Hogan is still a part of it. The Hulkster has been removed from the game altogether for reasons that you don't need me to tell you about. There are a number of shocking inclusions, including Superstars down the pecking order in NXT and Attitude Era stars who had very little to do with cover star Stone Cold Steve Austin. While there are also a number of notable exclusions, including the Legion of Doom, who seemed to be nailed on for a place in the new title after
leaked video footage
appeared to show Jerry €˜The King€™ Lawler and Jim Ross recording commentary that would have been for a match involving LOD and the team of Austin and Shawn Michaels. According to the leak, The Dudley Boyz make their WWE video gaming return and legends such as Shane McMahon, Viscera and The Big Boss Man have won a place in the game. There is one glaring admission from this list in Andre The Giant. The WWE Hall of Famer has already been confirmed for the new game but was no where to be seen as the presenters scrolled through the roster. This could mean the following list is fake, or that Andre is an unlockable character or DLC extra. On top of that, no less than DAVID OTUNGA has apparently still managed to find himself a spot in the new game... How?!?! Let's not mess around, here's the roster in full: Adam Rose Aiden English (NXT) King Barrett Baron Corbin (NXT) Big E Big Boss Man The Big Show Billy Gunn Blake (NXT) Bo Dallas Booker T Bray Wyatt Bret 'The Hitman' Hart Brock Lesnar Bubba Ray Dudley Bull Dempsey (NXT) Cesaro Chris Jericho Christian Big Cas (NXT) Curtis Axel D-von Dudley Daniel Bryan Damien Sandow Darren Young David Otunga Dean Ambrose Diego (Los Matadores) Dolph Ziggler Erick Rowan Edge Enzo Amore (NXT) Fandango Farooq Fernando Finn Balor (NXT) Goldust Heath Slater Hideo Itami (NXT) Hulk Hogan (Appears on this video but has since been removed) Jack Swagger Jake 'The Snake' Roberts Jamie Noble JBL Jey Uso Jimmy Uso Joey Mercury John Cena Kalisto Kane Kevin Owens Kofi Kingston Konnor (The Ascension) Luke Harper Mankind Mark Henry Million Dollar Man Ted DiBiase The Miz Mojo Rawley (NXT) Murphy (NXT) Neville R Truth Randy Orton Road Dogg Rob Van Dam The Rock Roman Reigns Rhyno (NXT) Rusev Ryback Sami Zayn (NXT) Seth Rollins Shawn Michaels Sheamus Simon Gotch (NXT) Sin Cara Shane McMahon Stardust Sting Stone Cold Steve Austin Terminator 1 Terminator 2 Titus O'Neil Triple H Tyler Breeze (NXT) Tyson Kidd The Undertaker Viktor (The Ascension) Vince McMahon Viscera William Regal X-Pac Xavier Woods Zack Ryder AJ Lee Alexa Bliss (NXT) Alicia Fox Bayley (NXT) Brie Bella Cameron Naomi Charlotte Emma (NXT) Eva Marie (NXT) Ivory Lita Natalya Nikki Bella Paige Rosa Mendes Sasha Banks Stephanie McMahon Summer Rae Tamina Tori Trish Stratus The full IGN video is available
here
.
Create Content and Get Paid
---