WhatCulture Christmas Gift Guide 2019: 122 Essential Gifts
Toys & Gifts
36. Cubby, The Curious Bear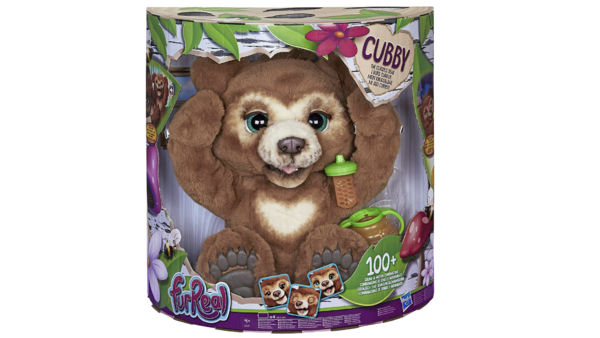 Fur real cubby, the curious bear interactive plush toy is a dream companion for kids aged 4 and up - one who'll excitedly take part in all their adventures and snuggle next to them at the end of the day. Cubby is a curious young cub, and is eager to be picked up and held (he hugs you back), play peek-a-boo, and even dance from time to time, let's not forget snack time. Feed him his bottle or treat and he'll make eating sounds.
He's a chatty little bear too, he babbles back when he's spoken to. In night-time mode, this cutie closes his eyes, makes sleepy sounds and plays one of four 5-minute sequences of soft music. Sweet dreams, cubby. With moving eyes, nose, and mouth, his face is delightfully expressive - a totally loveable cub!
35. Star Wars Retro Home Range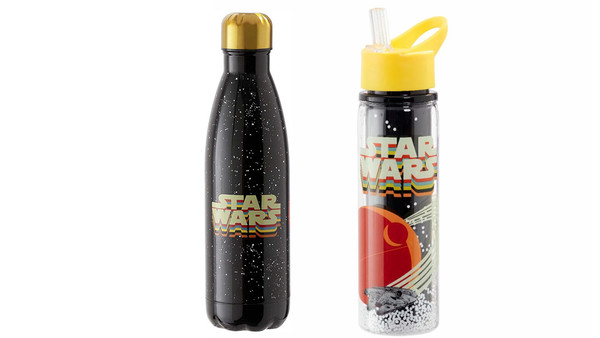 Celebrate the most iconic ships in the Galaxy with Funko's new Star Wars Retro home & gifting line! Featuring striking nostalgic designs including the Millennium Falcon and X-Wing's, the collection includes metal water bottles, storage tins, heat-reveal mugs and more, this collection is a must for fans of a Galaxy far, far away.
Pick up the metal bottle here and the plastic here.
34. Loungefly Stranger Things Back-Pack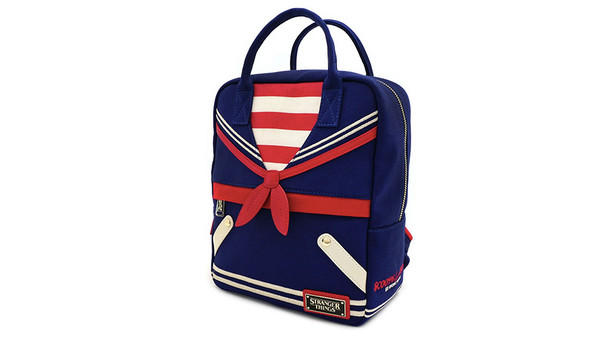 Funko don't just make vinyl collectible figures. They also have their Loungefly brand, which combines the same sort of great licenses - Disney, Star Wars, Pokemon and Harry Potter among others - and beautiful premium design work. The back-packs are really something special.
33. Star Wars Scream Saber Lightsaber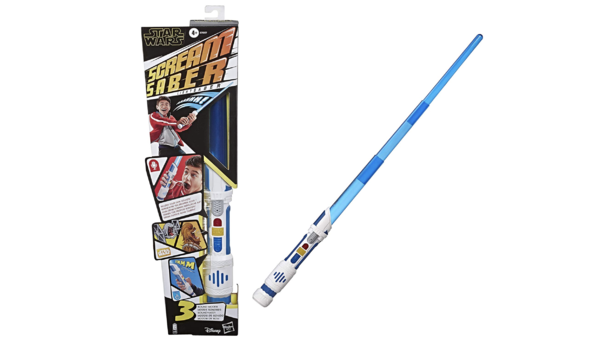 "Ah-Choo!" "Pew-Pew!" "Honk-Honk!" "Meow!" The Star Wars Scream Saber Lightsaber is ready to sound off! Featuring exciting electronic sound FX inspired by the Star Wars movies, boys and girls can imagine battling in epic Lightsaber duels with the Star Wars Scream Saber Lightsaber. The Scream Saber has 3 awesome audio options. Kids can record their own crazy combat noises, activate unexpected STAR WARS sounds, and of course, imagine battles with authentic Lightsaber sound FX.
32. Monopoly Voice Banking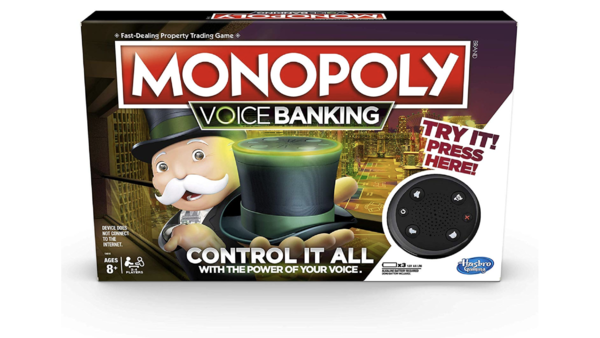 The Monopoly voice banking game features lights and sounds, and comes with an interactive Mr Monopoly banking unit. The iconic Monopoly top hat is voice-activated and the personality of Mr Monopoly really shines as he handles All of the transactions. He keeps tabs on players' Money and properties so there's no cash or cards to think about.
Talk to Mr Monopoly and he responds. For instance, press your token's button and say, 'buy bow street'. Mr Monopoly will track The transaction, keeping the game moving. With the Monopoly voice game, players travel around the board aiming to be the person with the most money and highest property value to win!
31. Play-Doh Stamp 'n Top Pizza Oven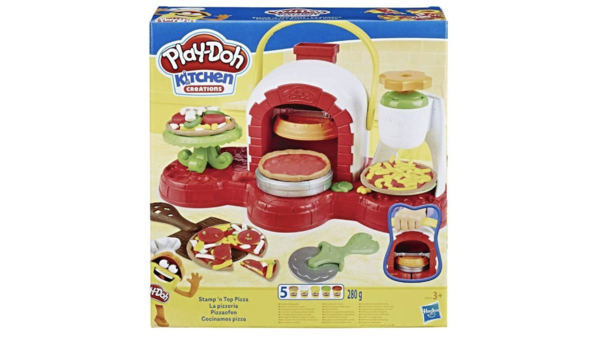 Live that Play-Doh pizza life. There's a pretend pizza party just waiting to happen with this toy oven for kids aged 3 and older. No batteries or electronics – just imagination. Stamp a pizza crust in the oven, then go wild creating and customising.
The cheese grater shreds Play-Doh compound into grated cheese, and the oven playset has plenty of moulds all around it to make pretend pepperonis, silly veggies and lots of other outrageous toppings. It's a great play pizza set for kids who love to get creative with squishy materials like modelling clay, and comes with five standard-size 56.5 gram Play-Doh pots.
30. LEGO Hidden Side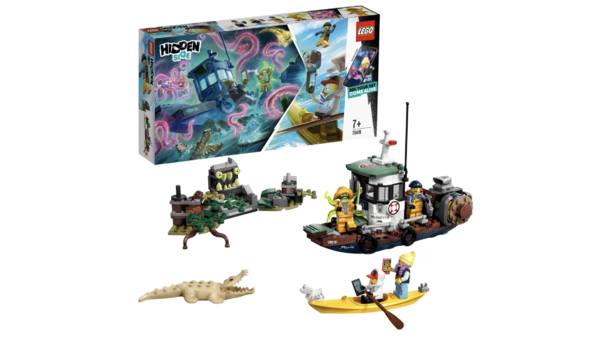 LEGO has changed. Immerse youngsters in fun, augmented reality (AR), ghost-catching adventures with this LEGO Hidden Side 70419 Wrecked Shrimp Boat. Watch this awesome set come to life with lots of cool details to kick-start hours of imaginative play. Includes 4 minifigures: Vloggers Jack & Parker with their smartphones, Captain Jones Jr., Spencer the ghost dog, and an albino alligator to add a lot of fun play-starters.
The AR playset combines the open creative play of LEGO construction bricks with a continuously updated augmented reality game app for kids. With continuous updates, a unique boss ghost to battle in each set, new mysteries to solve, cool items to find and ghosts to defeat and collect, this LEGO Hidden Side set takes LEGO play to a new dimension!
29. Top Trumps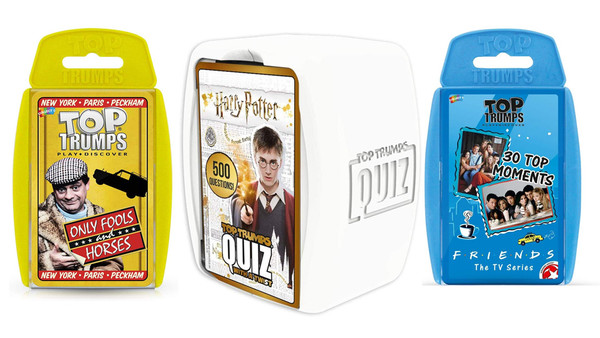 Top Trumps are a staple of playing and have been for decades and the company is now looking to change how you play. It's not just about comparing stats - though with sets like these Star Trek Specials or the new Only Fools And Horses set - bu there's also the Harry Potter quiz Top Trumps game and the Friends 30 Top Moments set.
28. WWE HeroClix - Rock N Sock Connection & Mixed Match Challenge Ring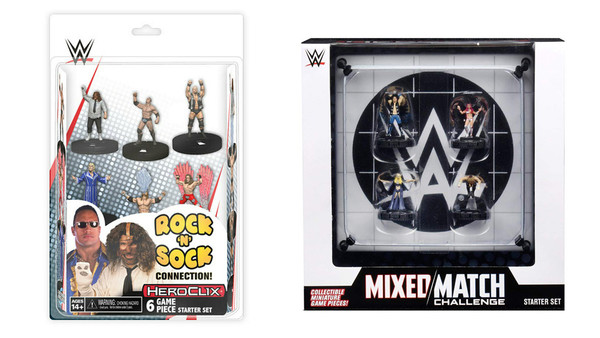 A new way to celebrate your WWE obsession, these HeroClix give fans an opportunity to collect figures (the designs are great and they're expertly painted) and play them against one another. The collection grows every year and this year there's a brilliant retro Rock N Sock Connection pack with six figures and a Mixed Match Challenge ring with four.
Buy the Rock N Sock Connection here and the ring here.
27. Marvel Dice Masters: X-Men Forever Campaign Box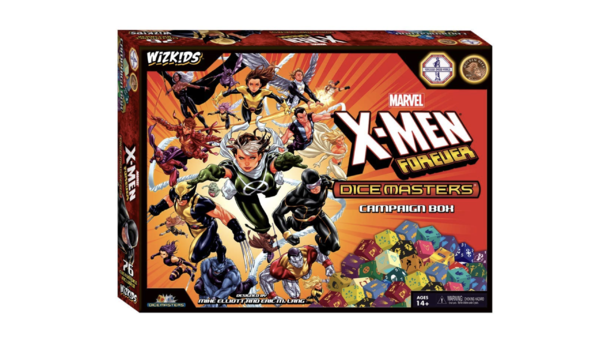 The marvel dice Masters: X-Men forever campaign boxes The latest dice Masters launch to roll into your flags quarries! And dice Masters are Global hits from WizKids using the same proprietary dice building Game platform developed by Mike Elliott and Eric M. Lang. X-men forever brings Classic X-Men back to the spotlight, whether you're a fan of Wolverine or Cyclops there's something here for you.
With more than a dozen different X-Men to choose from, you'll have tons of options to customize your team of X-Men for the job at hand! Some of the x-men's most dangerous foes show up too, including characters never-before-seen in dice Masters like Donald pierce, Lady Deathstrike, and mastermind!
Buy it and boost your collection with the X-Force Team Pack and the Dark X-Men Team Pack.
26. Star Trek: Galactic Enterprises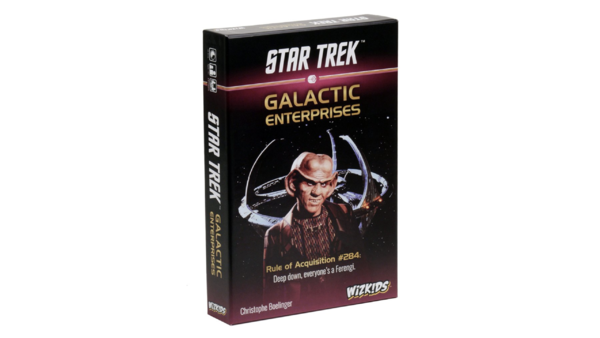 From the mind of Christophe Boelinger, a veteran game designer beloved for his games that bring hours of fun to gaming night, comes Star Trek: Galactic Enterprises! On the Deep Space 9 station, Ferengi wheel and deal legal and illegal items in order to accrue the most profit. Because as you know, a Ferengi without profit is no Ferengi at all.(Rule of Acquisition #18). 3 to 8 Ferengi will buy and sell their wares, trying to monopolize a particular item for greater profit.
However, once other Ferengi get those same items for sale, it becomes a matter of negotiation: do you work together to gain the same profit or do you agree to cooperate, then sell at a lower price to steal all the profit for yourself? After all, opportunity, plus instinct, equals profit (Rule of Acquisition #9). Be wary of special action cards that can mess with the business of other Ferengi. The bigger the smile, the sharper the knife (Rule of Acquisition #48). The Ferengi who has earned the most profit becomes the First Clerk! In Star Trek: Galactic Enterprises, everything is for sale - even friendship (Rule of Acquisition #121).
25. Bumuntu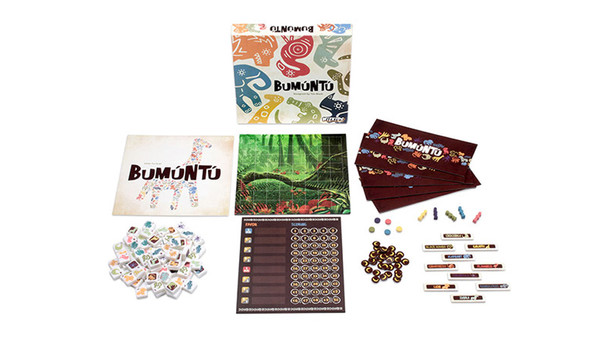 A common theme in African folklore is that animals are wise creatures who teach humans to do good and moral things. In Bumúntú, based on the Bakongo culture of central Africa, you are a tribal leader seeking to befriend the animals. Trek through the jungle, follow the animals' guidance, and earn their favor. Successfully earn the most favor and the animals will help bring your people to prosperity.
24. D&D Icons of the Realms: Walking Stature of Waterdeep: The Honorable Knight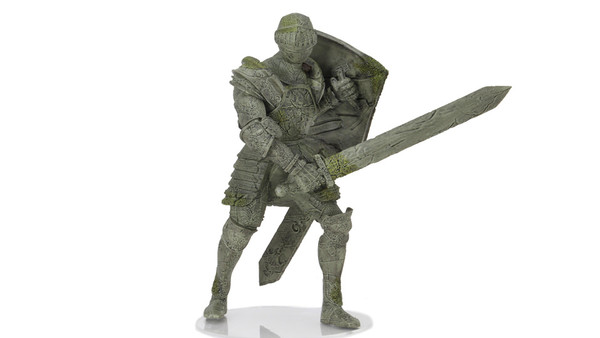 The gorgeous detail on this miniature highlights the incredible power that is at the Blackstaff's command, towering over the city of Waterdeep at 57′ 3″ tall. Bring one of the awesome protectors of the Crown of the North to your Waterdeep adventure with this premium figure! This fantastic pre-painted premium figure will be the perfect piece to create an immersive roleplaying game experience. It's the perfect addition to your Waterdeep adventure and beyond!
23. D&D Icons Of Tthe Realms: Baldur's Gate: Descent Into Avernus - The Infernal War Machine Premium Figure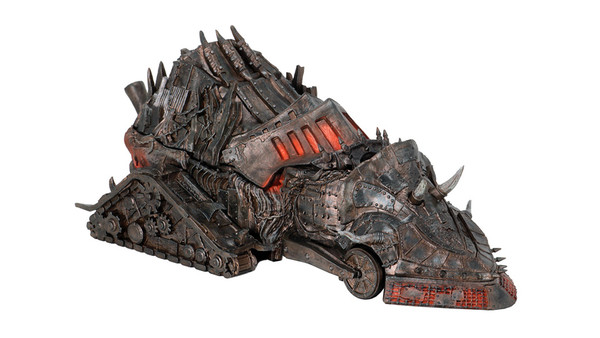 Infernal War Machines are the tanks of the Blood War, and devils use them to fight demons and move about the hellscape. After the massive battles of the Blood War, other denizens of Avernus scavenge these wrecked machines for parts to make their own personalized war machines. With the Infernal War Machine Premium Figure, add an extra dimension to your adventure and allow your characters to travel across hell in style.
22. Kibble Scuffle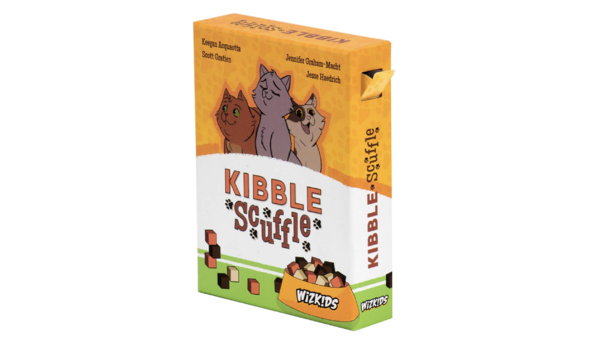 You have a lot of cats, and they all need to eat. Clash their personalities in fun and exciting ways to feed them kibble and win the game. Kibble Scuffle is a tactical card game of area control to try to get the best food for your feline friends. With cards like the Robo-Vac and Laser Pointer, you can use toys to strategically distract your opponent's cats.
Using the game box as a cat food box to store the food cubes, players take turns placing their cats and resolving their abilities. For example, the Pounce Cat removes a cat at a bowl. The Greedy Cat eats two food cubes. The Mangy Cat forces another cat to move away from their bowl. Once five cats are at any food bowl, the feeding (scoring) phase begins, followed by a new round.
21. Marvel Avengers Infinity War Glasses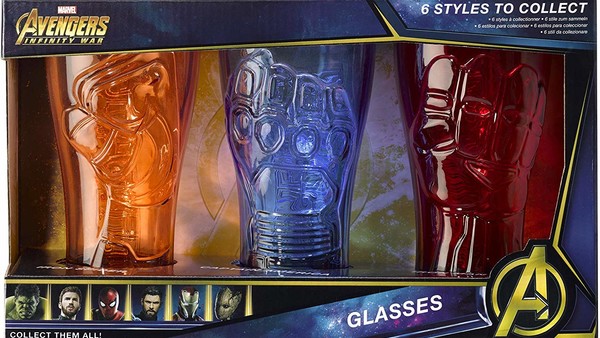 What better way to show your love of Marvel than to celebrate the decimation of half of the MCU's living creatures. Hurray for hydrating genocide! 6 to collect.
20. PyroPets DREKI Dragon Candle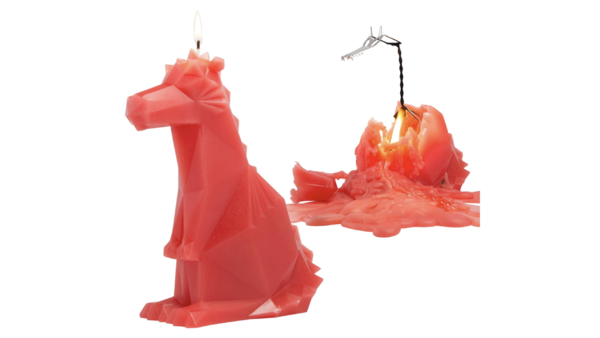 As any Game Of Thrones fan will tell you, dragons are still big business and this set of gorgeous fire-breathing dragon candles is a great way to help your dragon-loving friends and family celebrate them. It's almost a shame to melt them.
19. Tails - Phone & Controller Holder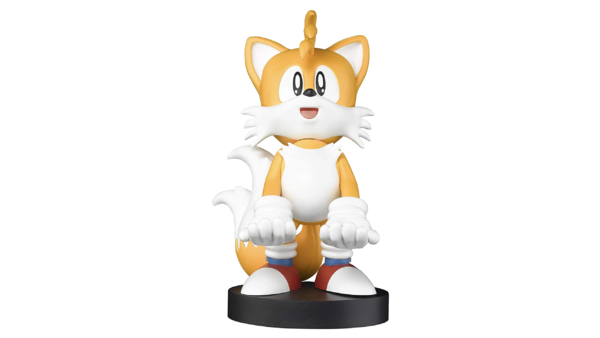 Exquisting Gaming have merged collectable figures and charging stands to create Cable Guys. The perfect accessory to hold your gaming controllers, phones and so much more! Fully licensed and there's other ranges including Marvel Avengers, Disney, Spyro, Crash Bandicoot, Sonic the Hedgehog and many more.
18. Hape Grand City Station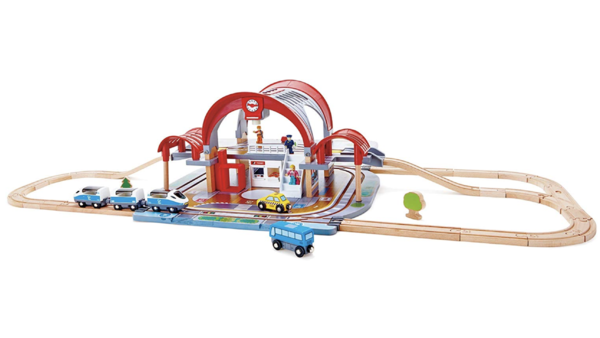 All aboard! This two-level station kit lets you experience All the thrills of a big city railway. Make your passenger buy a ticket, ride the lift and rush to catch the fast train. Includes recorder for Station announcements, destination projector and light. Not suitable for children under 3 years.
17. ion8 Leak Proof BPA Free BackPack Water Bottle (500ml)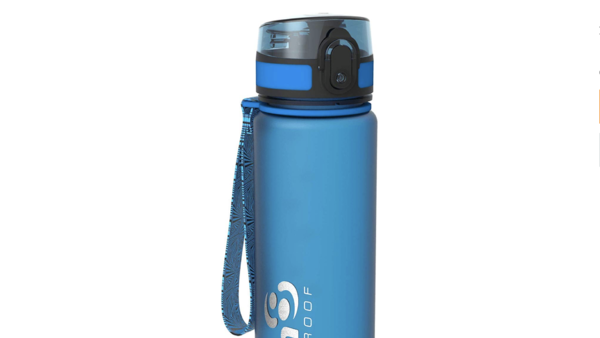 Staying hydrated means staying healthy (and by proxy happy!). That's why you should drink between 1,5 and 3 liters of fluid every day, depending on your level of activity and exposure to sunlight and this 750ml bottle is a great, sleek option. Add a Fruit Infuser to control your own flavour injections.