10 Best Wrestling Matches Of 2021 (So Far)
10. Kenny Omega vs. PAC vs. Orange Cassidy (AEW Double Or Nothing)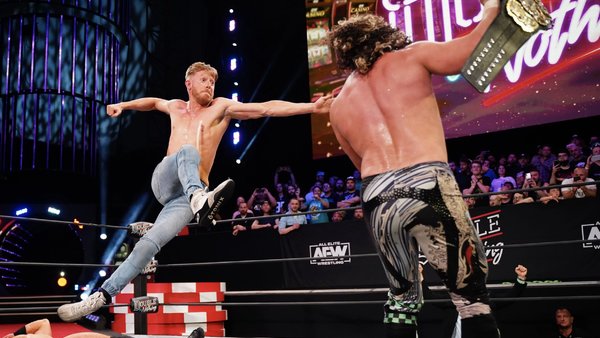 Kenny Omega's AEW World Championship run hasn't yielded the glut of elite-level singles matches many had hoped for when he took the strap from Jon Moxley, though his physical condition goes some way to explaining this. Per Dave Meltzer, Omega is banged up to the extent that on some days, he wakes up and feels close to drawing a curtain on his career.
It's therefore understandable that he might not want to push his body through the grind of lengthy singles matches - and equally understandable that his best of 2021 is a three-way.
Double Or Nothing's World Title match was a near-flawless execution of a familiar format. It's tough to shake the feeling that wrestlers are simply working through a My Turn/Your Turn/His Turn formula in these bouts, particularly as said formula has been done to death over the years, but while there was definitely an element of it here, everything was so precisely calibrated that it didn't matter. Orange Cassidy's comebacks, PAC's cutoffs, and Omega's bursts of d*ckheadery came in the perfect spot at the perfect time.
This was a triumph for Cassidy too. Considered by many a spent force due to diminishing returns in the Empty Arena Era, OC proved his enduring power as a one-of-a-kind act at Double Or Nothing, willing a partisan crowd behind his every move.