10 Early Predictions For WWE WrestleMania 34
6. Finn Bálor Vs. Seth Rollins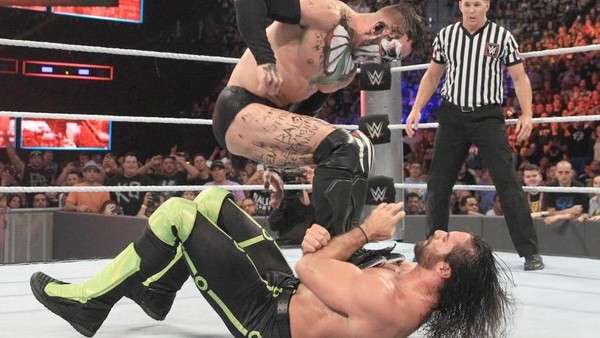 Finn Bálor's booking since his return from injury has made next to no sense.
He didn't (read: couldn't) immediately challenge for the Universal Title he relinquished twenty four hours after he won it. He couldn't seek retribution for the labrum tear he suffered at SummerSlam 2016 because the man who inflicted it, Seth Rollins, became a fellow babyface in the interim. The only thing he's done of note is score a pin over United States Champion Kevin Owens - and that was the second title he had a claim to contend for but couldn't follow up. His reward saw him paired with jobbers and jobbers-cum-headliners Curt Hawkins and Jinder Mahal. He doesn't have a match at Payback on Sunday - he's appearing on Miz TV on the Kickoff portion.
It's embarrassing at best and p*ss poor at worst. Bálor has been cleared to compete since before WrestleMania - creative has had ages to dream up something meaningful for him. Meanwhile, Seth Rollins' transition into a fully-fledged babyface continues to underwhelm. His very good match with Triple H at 'Mania 33 has been followed up with generic babyface posturing on RAW.
The emergence of Braun Strowman and the persistence with which Roman Reigns continues to be pushed means that Bálor and Rollins are going to struggle for relevance in 2017 - why not execute a hard reset of SummerSlam in 2018?