10 Early Predictions For WWE WrestleMania 34
5. Shane McMahon Vs. Kevin Owens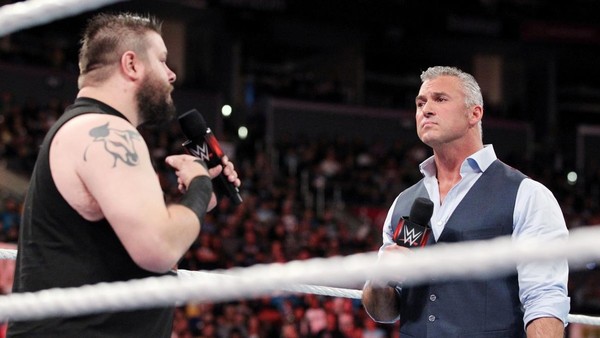 Shane McMahon wrestling a match at the Show of Shows is entrenched as a "thing" now, like it or not.
His 'Mania 33 match with AJ Styles was well-received, even if in the opinion of some it created a bizarre strand of in-universe storytelling logic. Shane went strike for strike with Undertaker at 'Mania 32 and hold for hold with AJ Styles in Orlando. He can basically mirror and almost rival any opponent put in front of him.
Who that opponent might be in New Orleans is anybody's guess, but the process of elimination leaves only a few realistic names. Shane somehow retained his standing as a babyface after 'Mania 33, even though nobody wanted the AJ Styles match to happen. He's probably not going to turn heel any time soon. SmackDown works well enough with an ostensibly fair management team at the helm.
On that basis, Shane will probably face one of the show's prominent heels. It's hard to imagine the Jinder Mahal craze lasting a calendar year, but then it was impossible to imagine him winning a wrestling match a fortnight ago. Randy Orton could turn, but that's been done. Baron Corbin is nowhere near ready to do the heavy lifting in feature matches.
That leaves Kevin Owens. He excels in violent stunt shows and Shane can sell a beatdown, if nothing else. If he has to wrestle, there are few better options.