10 Times Wrestling History Repeated Itself
8. From The Undertaker To Badass Biker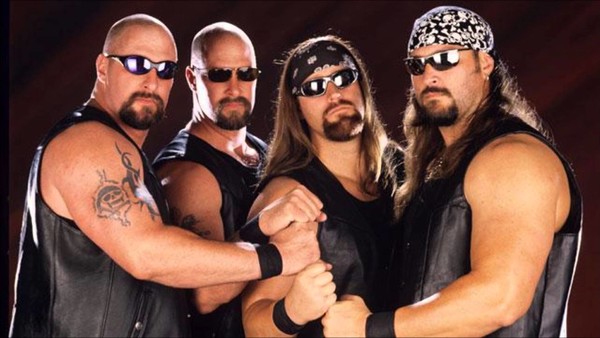 That'€™s Mark Calaway, the man behind the legendary spooky Undertaker gimmick, who repackaged himself as a hardman biker character in 2000 and achieved even more success, before returning to a version of the gimmick that made him famous. Right? Ah, actually we€™re talking about Brian Lee.
Who?
Well, in 1994, Lee was brought to the WWF to be represented by €˜the Million Dollar Man€™ Ted DiBiase as a fake version of the Undertaker. DiBiase, who'€™d been responsible for bringing the real Undertaker to the WWF in the original storyline, claimed to have found his former protégé (whose character was on hiatus while Calaway recovered from a back injury) and brought him back to the ring. The real Undertaker returned to fight the €˜Underfaker€™ and defeated him in a casket match at Summerslam 1994.
Lee didn'€™t get to reprise the Dead Man gimmick for a lengthy feud: he was one and done, and left for pastures new. However, he'€™d return to the WWF in 1997 under the name Chainz€ as a badass biker with sinister, occult imagery, a part of the villainous stable DOA €" the Disciples Of Apocalypse.
DOA would stick around for two years before quietly dissolving in 1999. Chainz€™ himself left the company again after only one year. In 2000, the real Undertaker returned once again from hiatus caused by injury - this time as a badass biker with sinister, occult imagery. What€™'s good for the goose is good for the gander: Brian Lee stole Mark Calaway'€™s gimmick, so Calaway stole his in return€.