10 Wrestling Moves That BLEW YOUR MIND The First Time You Saw Them
8. Rob Van Dam's Van Terminator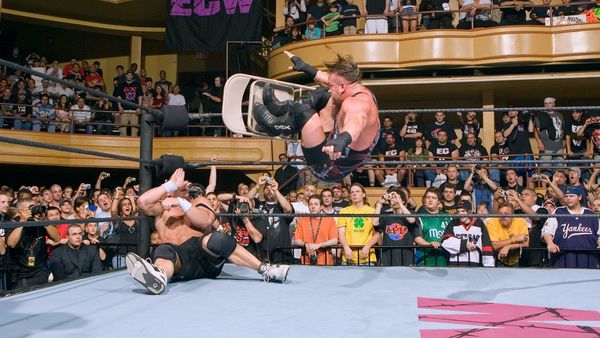 Rob Van Dam is one of the most influential pro wrestlers of all time, though he doesn't quite receive enough recognition for it.
Dynamite Kid is considered the chief architect of the super-athletic, big-bumping modern style, the blistering pace of which was set by his futuristic series opposite Tiger Mask. Van Dam's series with Jerry Lynn in ECW is iconic without garnering quite the same level of critical acclaim - but an entire generation was watching.
The counter-driven, kung-fu inspired rhythm is hard-coded into the DNA of virtually every sequence in the dominant North American genre. Sloppy at times, Van Dam was amazing in the strictest definition at his best, and his best move was his majestic, impossible Van Terminator.
He travelled a distance - and a route - that was unfathomable by ascending the turnbuckle, chair in hand, and clearing the full breadth of the ring to smash it in his opponent's face.
Why is "video game wrestling" a pejorative? This looked more coded than performed; a move that defied physics and generated an incredulous monster reaction.
On the subject of video game wrestling...