7 Things You Should Know About WWE Royal Rumble 2005
A fun Rumble match capped by an injury and unexpected ending.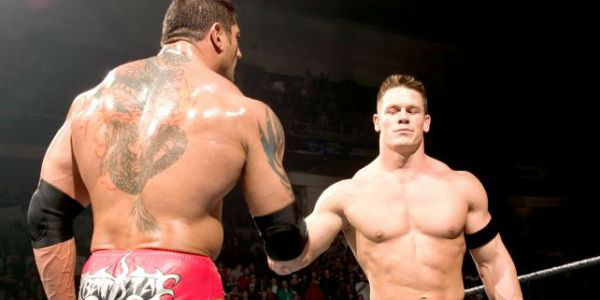 It was a new era in WWE as they headed to the Royal Rumble in 2005. Two years earlier, Brock Lesnar won the Rumble match and was being groomed to be the biggest star in the business for the next decade. Unfortunately, Brock left the company following WrestleMania 20 in 2004, so they had to restart their search to see who would replace Steve Austin and The Rock as the flagbearers of WWE. Two of the men that were penciled in to step up to the plate were Batista and John Cena. At the time, Batista was still a bit of a heel because he was with Evolution for a couple of years, but the fans knew he was turning against Triple H and Ric Flair by that point. Cena had become one of the biggest babyfaces on the Smackdown brand for about a year, so he was definitely ready to step up. Randy Orton was also in the mix although his babyface run didn't take off that well. The format of this show became something that WWE did regularly during the brand extension era. They usually put both the WWE & World Title on the line in undercard matches and then the Rumble match went on last. They usually had time for another one or two matches as well. For this show, both heel champions Triple H (World Champion) and JBL (WWE Champion) found cheap ways to leave with the titles they walked in with. The 18th Royal Rumble event took place in Fresno, California on January 30, 2005. Here are the results from the show. 1. Edge d. Shawn Michaels 2. Casket Match: The Undertaker d. Heidenreich 3. WWE Title: John Bradshaw Layfield d. Kurt Angle & Big Show in a triple threat to retain the title 4. World Heavyweight Title: Triple H d. Randy Orton to retain the title 5. Batista won the Royal Rumble Here are seven things you should know about the 2005 Royal Rumble.