8 Big Concerns Ahead Of WWE Clash Of Champions 2017
8. Bludgeoning Breezango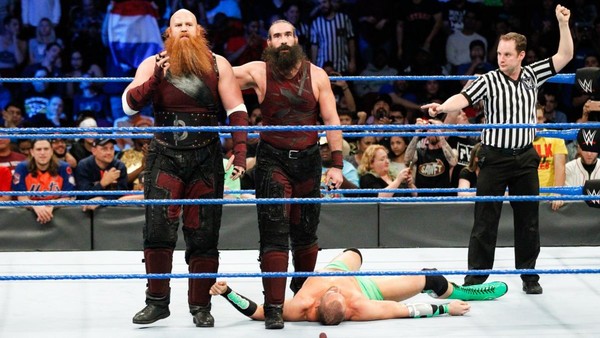 60.25 seconds.
That's how long the average Bludgeon Brothers match has lasted since Harper and Rowan reunited on SmackDown. Granted, they've only faced the dissolving Hype Bros, Colin Delaney, and a handful of 'local talents,' but they've, ahem, bludgeoned everything in their path thus far, and will now face Breezango at Clash Of Champions.

This may be a more competitive match than the former Wyatt Family brutes are used to at the moment. The Fashion Police have enjoyed a bigger spotlight in 2017, but they rarely wrestle, and were most recently used to put Kevin Owens and Sami Zayn over on Survivor Series' Kickoff Show. WWE might opt for a similar format this Sunday, with the popular duo putting up a brave fight before falling to the Bludgeons in just under 10 minutes. Or they might have Breezango job in 60 seconds. It could go either way.
The latter would be a terrible idea, as the Fashion Police's current popularity could easily be parlayed into a solid in-ring push, but not if they're fed to the monsters. We'll find out if the company see them as anything more than enhancement talents this weekend.
Andy H Murray
WhatCulture's big bad wrestling news baron. A fan since 1992, still geeking out for everything from WeeLC to mid '80s Jim Crockett Promotions. Give him a follow @andyhmurray. You'll have a great time. Maybe.
See more from Andy