8 WWE Elimination Chamber 2021 Impulse Reactions
The Miz becomes WWE Champion, Edge makes his WrestleMania choice and Bobby Lashley goes ballistic?!
The Elimination Chamber 2021 Kickoff opened with a shot of the titular structure hanging over an empty ThunderDome, mirroring the cloud that remains over the entire world.
Elimination Chamber 2020 was the last major WWE pay-per-view to take place in front of a crowd before the pandemic grabbed the globe by the throat, and it was hard not to draw a line between then and now. And, for that matter, the 2014 edition of show. Back then, it was the last event before the launch of the WWE Network. Now, it served as the final one before the entire thing gets ported to Peacock in the latest of the company's billion dollar deals.
There were echoes to seven years ago here - Daniel Bryan, Sheamus and Big E found themselves in identical positions to the show in 2014. Bryan in particular - his dream is to main event WrestleMania, just like it was back when WWE were looking for almost anybody else instead.
'The Show Of Shows' remains one of the few still points in this frantically turning world. The sign in the background was leveraged as the motivation for all the abuse the wrestlers were expected to take, especially with the aforementioned audience potentially back by the time WWE pitches up in Raymond James Stadium.
Would this show play out as a sad farewell to Network v1.0? Or an optimistic hello to the new normal?
8. John Morrison Vs. Mustafa Ali Vs. Ricochet Vs. Elias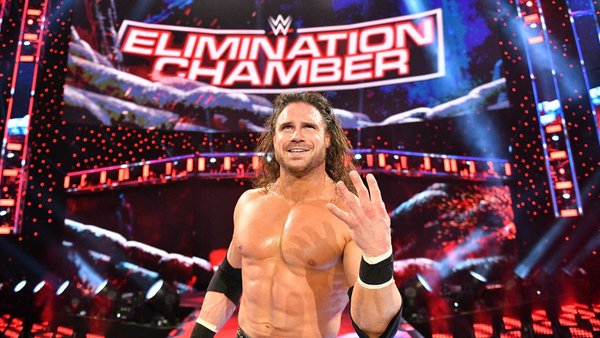 A relatively enjoyable spotfest kicked off the in-ring portion of the night when an impromptu fatal four-way was booked to find a United States Championship match replacement for the absent Keith Lee.
The stacked field went big with their high spots to inject a bit of a drama into this last minute solution, with Ricochet in particular glaring down the hard camera at one point as if he was trying to out-stare Vince McMahon himself. That he was on the arena floor seconds later completed that analogy rather well.
He'd have looked awesome in one of the Chamber matches. Or, for that matter, the triple threat match he didn't qualify for here. That went John Morrison's way after Retribution f*cked up, like the constant f*ck ups they are.
The Miz was conspicuous by his absence alongside the 'Shamen Of Sexy' too. This was a welcome tease for other events later in the show and something the panel weren't afraid to speculate on after the fact. It set a high-octane tone at the start of the show, pitching things just right for an unbelievable opener...