AEW Rampage Beats WWE SmackDown Head To Head (P18-49) - Full Ratings Breakdown
Full breakdown of Friday's TV ratings as AEW outdoes WWE head-to-head in the key P18-49 demo.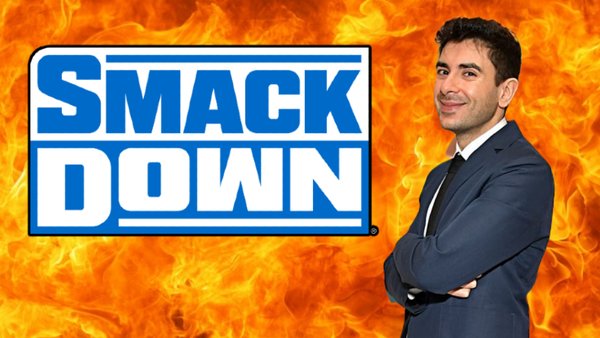 A competing wrestling show outdid WWE head to head on cable for the first time since 1998 last Friday (15 October), as SmackDown fell to AEW Rampage in the 18-49 demographic during the shows' 30-minute overlap.
This is the big takeaway coming out of the year's most anticipated ratings battle. Preempted from FOX to FS1 due to MLB coverage, WWE's biggest weekly show was 'Supersized' with an extra half-hour from 10 PM ET, putting it in direct competition with Rampage for the first time - and it didn't work out.
SmackDown fared better over its full 150-minute runtime, drawing 866,000 P2+ viewers compared to AEW's 578,000. The WWE show ranked third on the night amongst cable originals, doing so with 314,000 viewers aged 18-49, which was enough for a 0.24 rating and a marginal victory over Rampage's 313,000 viewers (also a 0.24 rating - and fourth on the night).
But it's the head to head half-hour that will attract the most interest - and Tony Khan's show ended up outdoing Vince McMahon's there.
In the 18-49 demographic, coveted so by advertisers and networks, Rampage beat SmackDown 328,000 vs. 285,000 across the 30 minutes. The gap was greatest during the first quarter-hour, featuring the bulk of CM Punk vs. Matt Sydal and Becky Lynch vs. Sasha Banks, with AEW outdoing WWE 363,000 vs. 277,000.
SmackDown outdid Rampage's overall viewership 878,000 to 602,000 for the 30-minute overlap, though television shows are ranked by the P18-49 number, not P2+.
SmackDown's overall viewership was down 60% compared to the previous week, with P18-49 declining 54%. Rampage, meanwhile, was up 15% in overall viewership and 39% P18-49.
There are extenuating circumstances here. Moving from a broadcast network in FOX to the significantly less popular FS1 on cable has always prompted WWE downturns, with SmackDown slumping to 1.030 million viewers the last time this happened (18 December 2020). SD would have almost certainly fared better against AEW had it aired on the usual channel. Nonetheless, the 15 October numbers are significant for AEW - a company that has been in existence for under three years.
WWE hasn't been outdone by another wrestling promotion head to head on cable since 26 October 1998, when WCW Nitro beat Raw.
Data: Showbuzz Daily, Wrestlenomics (I, II).
Create Content and Get Paid
---