Major WWE Raw Star Makes Surprise Appearance On SmackDown
WWE had a surprise in store for Happy Corbin and Madcap Moss on SmackDown.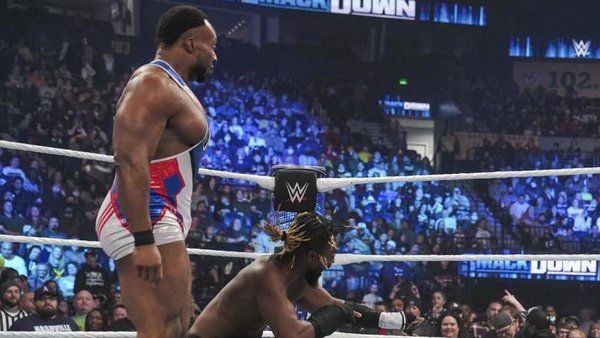 Big E showed up to give his New Day pal Kofi Kingston some backup on Friday's episode of SmackDown.
WWE ignored the brand split by bringing Raw's ex-WWE Champ over to FOX. Nobody who watches the product regularly should be surprised by that; there have been countless crossovers since the 2021 Draft that it's almost like a running joke between fans at this point.
E acted as an enforcer of sorts. He kept Happy Corbin quiet at ringside during Kofi's bout with Madcap Moss, and that let Kingston pick up the win over the prankster. Obviously, this is a secondary feud for New Day. It's only really happening because Drew McIntyre went down with a serious neck injury that required attention immediately.
Pivoting, WWE slotted Kofi in as the joking pair's chief rival, but they clearly felt like the story needed a little more juice come SmackDown. So, Big E came over from Raw to watch his friend's back against the heels. Who knows if this will lead to anything (maybe a tag-team match?) over the next few weeks.
Fans were happy to see E, at least.
Create Content and Get Paid
---