Pat McAfee Questions His WWE Future Amidst Potential Sale Of The Company
Could McAfee's planned return to WWE now be off?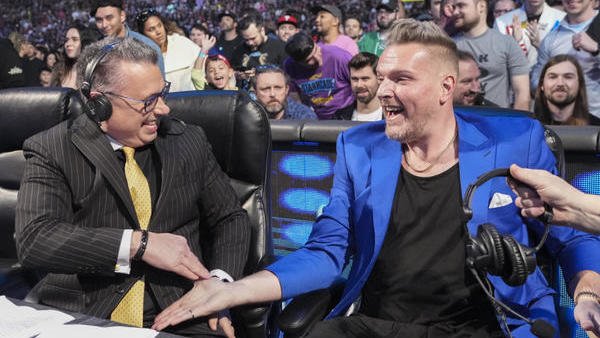 Currently on hiatus from his WWE duties, Pat McAfee has taken to Twitter to throw doubts over his future with the promotion amidst recent reports that WWE will be sold later this year.
In a lengthy Twitter post covering plentiful topics and projects relating to McAfee's future, the former NFL star honed in on WWE and whether or not he'd be eager to work with whoever ends up purchasing the market leader.
As Pat put it:
"Baby girl on the way… what's that mean for my future with @WWE? I LOVE it but, they're allegedly gonna be sold, who's buying them? Do I want to work/make money for those people?"
You can find McAfee's full thoughts below:
Man… brain's been COOKIN

Excited to get back but I love this annual think sesh at the beach with my bride..The future of #PMSLive has been a lot of fun to think about..Going thru all of the numbers.. facts are facts.. We've really been quite a !*$% disruptor in this… https://t.co/pNXe2csCVE pic.twitter.com/GoFUtwTLRc

— Pat McAfee (@PatMcAfeeShow) February 22, 2023
WWE is very much up for sale right now, with reports noting how the company is looking to be sold by mid-2023.
As part of the sale process, WWE CEO Nick Khan has already met with Disney CEO Bob Iger and ESPN President Jimmy Pitaro, with Comcast, Amazon, Netflix, the Saudi Arabia Public Investment Fund, UFC owners Endeavor, and AEW's Tony Khan amongst parties believed to have interest in WWE.
Of course, this all came hot on the heels of Vince McMahon strong-arming his way back into power as the WWE Executive Chairman of the Board at the turn of the year, which itself happed at the same time that Stephanie McMahon formally resigned from the company.
Pat McAfee In WWE
In terms of Pat McAfee, the Indianapolis Colts favourite is a life-long wrestling fan who first began working with WWE back in 2018. Initially starting off as an analyst for the NXT TakeOver pre-shows, it didn't take long before McAfee was on commentary for NXT, and he made his in-ring debut for the company at TakeOver XXX in August 2020 - where he lost to Adam Cole.
Since then, Pat has had four more matches under the WWE banner; his Kings of NXT group losing to the Undisputed Era at TakeOver: WarGames 2020, McAfee defeating Austin Theory at WrestleMania 38, then losing an impromptu match to Vince McMahon at that 'Mania, and most recently picking up a win over Baron Corbin at last year's SummerSlam.
April 2021 saw McAfee join Michael Cole at the SmackDown commentary desk, and the pair's buoyant chemistry was immediate to see. Well, that was up until last September, when it was announced that the 35-year-old would be taking an absence from WWE in order to work on ESPN's College GameDay.
Pat McAfee did make a surprise one-off return to commentary at this year's Royal Rumble, though it now remains to be seen if he will indeed make a full-time return to WWE as and when the sale of the company goes through.