Randy Orton Criticises WWE Merchandise And Upcoming Face Turn
The master of the RKO isn't shy on Twitter and we love him for that.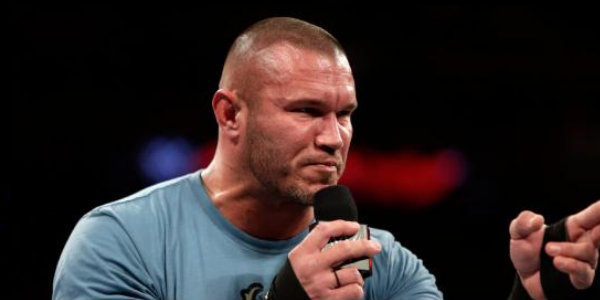 Randy Orton is not a heavy Twitter user (
@RandyOrton
), but thanks to his 3.7 million followers he tends to make a lot of noise when he actually responds to fans. A big reason why the Randy Orton RKO vine videos got big is because Orton was putting them over on Twitter. If the guy that does the move is telling people that it's cool then it is. He's much better on Twitter than John Cena, who really only posts generic quotes or says things that are not interesting. A Cena Q&A on Twitter would be a great idea because he hardly says anything interesting. Orton is different. He might not tweet for weeks, but then he'll go on a roll responding to people. Early on Friday morning, Orton responded to a number of tweets. There were some interesting replies. He mentioned an "Outta Nowhere" shirt earlier in the week, so here's how he replied when asked about it again: "I went straight to 'merch' with it, and I was told they're 'waiting to hear back' so don't get your hopes up." He doesn't sound optimistic about it although perhaps it will be out in a month or two when he's a face again. Speaking of his babyface turn, he doesn't appear to be enthusiastic about it. After a fan said "I never want @RandyOrton to turn face...It doesn't suit him..." he replied in simply with: "Amen to that." There aren't a lot of wrestlers that wouldn't even reply to fans using insider terms like face or heel, but Orton does. He's just being honest. Orton has always been open about always wanting to be a heel and that he was always more comfortable in that role. The face turn is likely coming at Survivor Series or leading up to it. Since Survivor Series is in his hometown of St. Louis it's very likely that they'll save the big moment until that PPV takes place. There's a slow build to it with all his complaining about Rollins and the RKO he hit on him this past Monday as well. Orton also noted that he starts filming his movie The Condemned 2 starting on Tuesday November 11. He's been pulled from WWE's European Tour because of it. We don't know for sure if he's going to miss any Raw events in November. They could always work around it. He could miss one or two episodes, but as I just mentioned he'll likely be a major part of Survivor Series on November 23. The other point Orton made was that he never got his rematch after losing the WWE Title at WrestleMania 30. That's true. He never got a singles match with Daniel Bryan. However, he was put in the Money in the Bank WWE Title match without earning his way into it. He also got a WWE Title match in the Battleground main event, which was a four way match. He's had plenty of chances although not a one on one singles match, so maybe that's the point he's trying to make. As a final note, Orton said he was "more than shocked" when The Undertaker's undefeated streak at WrestleMania ended. A lot of us were. Whether you use Twitter or not, check him out
@RandyOrton
because you never know what he might say.
Create Content and Get Paid
---