THAT Was The Worst WWE Match Finish Of The Year...
Charlotte Flair, Becky Lynch, Bianca Belair, and Sasha Banks just took part in a farce...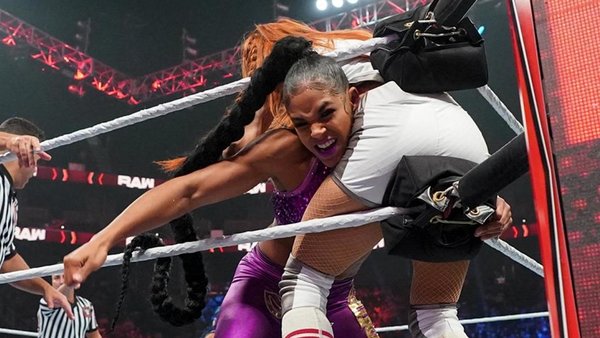 What could credibly be called the most disappointing WWE match of the year, given the calibre of the participants, played out on last night's episode of Raw, as Bianca Belair and Sasha Banks' tag team bout with Charlotte Flair and Becky Lynch started and ended in farce.
That so many of the participants are either feuding with each other currently or have done so in the recent past meant shenanigans were always likely. This started before the bell, with Sasha and Bianca arguing over who should begin the match, and lever stopped.
More a televised argument with intermittent brawling than an actual wrestling match, the contest became a near-heatless angle with all four women fighting. A team of referees couldn't keep them separated and even though producers Jamie Noble and Shawn Daivari had more luck, Adam Pearce and Sonya Deville were still forced to come onto the stage, berating the wrestlers for letting it fall apart.
This did little to pull the teams back together. They kept brawling with each other at ringside before the match was "restarted," despite never getting going in the first place. Eventually, after Flair was wiped out and Belair slammed Banks face-first into the turnbuckles, the match was called off by the referee. Damningly, very few people in the arena appeared to care.
Lynch was presented as the triumphant figure after downing Banks and Belair in the post-bell brawl, though nobody emerged from this looking good.
Lynch defends her SmackDown Women's Championship against Belair and Banks in a Crown Jewel 2021 Triple Threat on 21 October. Flair, at the time of writing, isn't on the card.