Vince McMahon's Reaction To Riddle's WWE Raw Promo Botch Revealed
How did the WWE boss react to Riddle forgetting his lines on last week's Raw?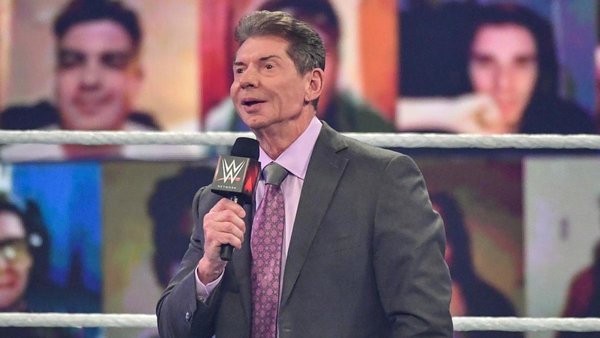 It's official: Vince McMahon thinks Riddle is "hilarious".
Fightful Select reported that the WWE boss laughed his ass off following the United States Champ's promo both on last week's episode of Raw. For those who missed it, Riddle stumbled his way through some dialogue backstage with Asuka before looking down the camera and saying, "I'm sorry, I forgot what I was saying".
He then walked off-screen and left Asuka looking mighty confused.
According to Fightful, Riddle was supposed to ramble on about "everything from Mt. Fuji to underground robot fighting" during the segment. He legitimately forgot his lines though. Amazingly, McMahon loved the chaos that unfolded - the gaffer pointed out that the mistake "didn't really affect anything significant".
Vince was also full of praise for the way Asuka handled things. She giggled and continued looking over at Riddle nervously, but walked off down the hallway with a smile to prepare for her upcoming match.
There was no heat on either party for what happened. That's pretty surprising considering Riddle botched so spectacularly on live TV.
So, there you go. Vinnie Mac is definitely a Riddle guy...bro!
Create Content and Get Paid
---