WWE Announces Title Unification Match On SmackDown
The NXT Women's Tag-Team Titles will be no more in just a few short weeks.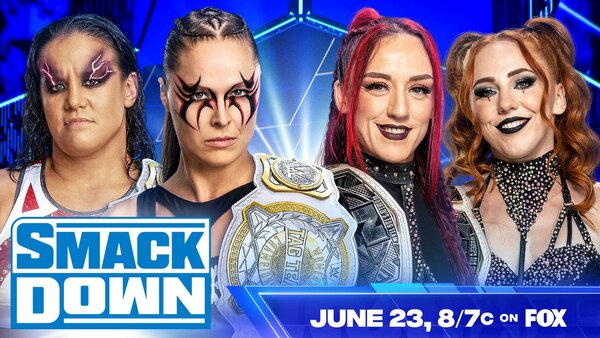 WWE will unify both sets of Women's Tag-Team Titles on the 23 June episode of SmackDown - the company has announced that Ronda Rousey and Shayna Baszler will wrestle former NXT pair Alba Fyre and Isla Dawn on that show.
It's "winner takes all" in a few short weeks, people.
Both sets of Women's Tag straps will be up for grabs in the match, and it's expected that the Ronda/Shayna combo will win then retire the NXT belts for good. In fairness, it makes sense that only one set of Women's Tag-Team Titles is hanging around on WWE's main roster.
Fyre and Dawn need to move on from NXT permanently, and the only way to do that is by retiring their belts. It's also rather difficult to see the SmackDown newbies upsetting Rousey and Baszler this early into their run on Friday nights.
The loss shouldn't hurt Dawn or Fyre though.
WWE will likely introduce brand new belts for these "Undisputed" Women's Tag-Team Champions shortly afterwards. Those titles will surely share a similar design to the straps presented to both Roman Reigns and Asuka on TV recently.