WWE: Ranking Bret Hart's 14 Matches At WrestleMania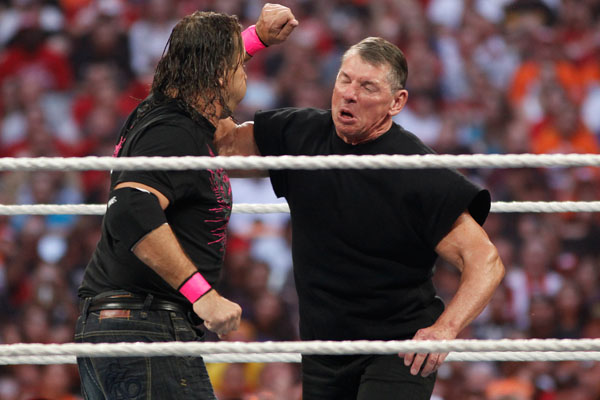 When discussing the greatest WWE performers of all time, the name Bret Hart should be near the top of everybody's list. The "Excellence of Execution" was one of the most consistently great performers in WWE history that had a number of awesome matches with a variety of opponents. Whether they were big guys or guys around his size, he found a way to have memorable matchups with everybody. In terms of Bret's WrestleMania history, he started back in 1986 at WrestleMania 2 and wrestled at every WrestleMania all the way up to WrestleMania 13 in 1997. After a 13 year absence, he returned in 2010 for one more "match" against his boss Vince McMahon at WrestleMania 26. Hart had 14 actual matches at WrestleMania. For this column, the focus will be on ten of them because four of them weren't much in terms of matches largely due to things out of Bret's control.
WrestleMania 2
- He was in a 20 man battle royal that was won by Andre the Giant. He lasted until the very end as the last man that Andre eliminated to win the match.
WrestleMania 4
- It was another battle royal this time won by Bad News Brown. It looked like Bret had made an ally out of him, but Brown tricked him and tossed him out to win.
WrestleMania 6
- This was a short comedy match. The Bolsheviks sang their anthem, the Hart Foundation attacked them and finished them off with the Hart Attack clothesline in a match that went 19 seconds.
WrestleMania 26
- Calling it a match was a bit of a reach. It was an angle more than anything because Bret couldn't take bumps. Bret had help from the Hart family as they destroyed McMahon together and Bret won with a Sharpshooter submission after about 10 minutes. The story was that after 13 years, Bret finally got his revenge on Vince. Now that we've got those matches out of the way, time to rank Bret's remaining ten matches in order from tenth to first.