WWE's Lacey Evans Deletes Ric Flair "Hooters" Tweet
The Sassy Southern Belle removes call-back to February 2021 Raw Talk appearance.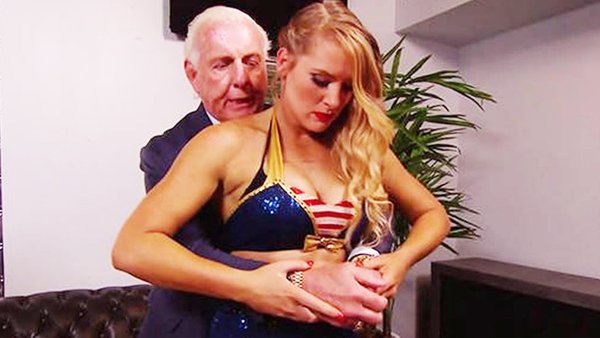 WWE star Lacey Evans has deleted a Twitter post she made earlier in the week pertaining to Ric Flair.
Thursday saw the Sassy Southern Belle post a screenshot from a Raw Talk appearance she made alongside Flair, captioning the image to reveal the Nature Boy told her he was in the mood for "some Hooters" after seeing Lacey.
Now, said tweet has been deleted from the on-hiatus Evans. Still, the post itself was quickly screenshotted prior to its removal.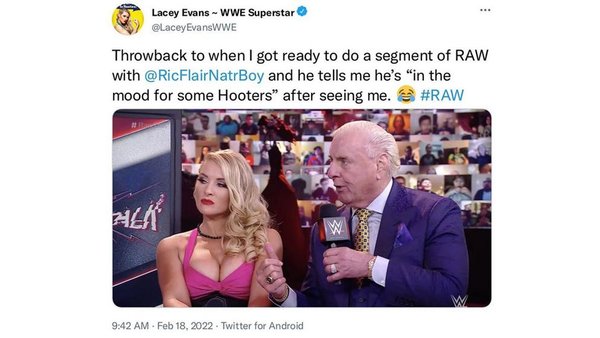 Flair and Evans were paired together prior to Lacey stepping away from the squared circle in February 2021 after becoming pregnant with her second child.
While there were implications that the duo were romantically involved as part of Evans' rivalry with Charlotte Flair, that storyline was completely dropped once the military veteran learned of her pregnancy.
For those unaware, Hooters is a US restaurant chain infamous for having its staff - usually referred to as Hooters Girls - parading around in revealing outfits as part of the company's image.
As for Lacey Evans, she gave birth to her second daughter this past October. Taking to social media, the Georgia native began training for her return to the ring the following month, with her expected to resurface on WWE television some point soon - with involvement at WrestleMania 38 not out of the question.
Create Content and Get Paid
---