10 Vertigo Graphic Novels You Must Read Before You Die
9. The Sheriff Of Babylon: Bang. Bang. Bang.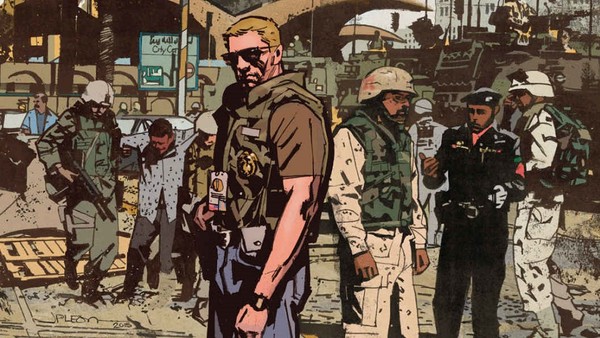 Speaking of recent Vertigo successes based on the real-life experience of the author, let's talk about Tom King's The Sheriff of Babylon.
Based on King's time as a CIA operative, The Sheriff of Babylon takes place in Baghdad, Iraq following the American-led invasion that ousted Saddam Hussein and focuses around military contractor Christopher Henry. In the midst of training a new police force, one of Henry's recruits is murdered and he makes it his personal mission to solve the crime.
The book is not only exceptionally bold and suspenseful, but also provides a cynical, eerily true-to-life look at Iraq following the 2003 invasion. It's the kind of story that's so vivid, it's clear that it's being told by someone who had first-hand experience with the subject matter at hand.
Making things even better, however, was that the man who provided the art for King's script was none other than Mitch Gerads, one of the most renowned comic book artists working today who also collaborated with King on the modern DC masterpiece Mister Miracle.
Simply put, the two have a tendency to put out some great work together, and the Sheriff of Babylon exemplifies that and then some.