10 Worst Things Black Adam Has Ever Done
8. He Killed Terra-Man On Camera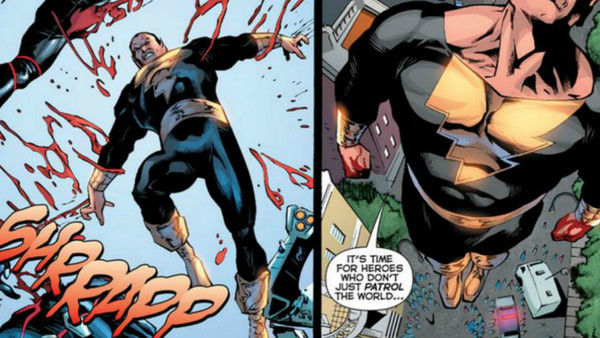 Originally inspired by Clint Eastwood's Man with No Name character from the Spaghetti Westerns of the mid-1960s, Terra-Man was a minor Superman villain named Tobias Manning. He was created by Cary Bates, Curt Swan, and Dick Dillin and first appeared in Superman #249. Originally portrayed as an Earth human child raised by aliens to use advanced alien weaponry, his Post Crisis origin is that of a former businessman and now an eco-warrior/terrorist who dresses in Old Western garb.
During the "Infinite Crisis", Terra-Man was a member of the Secret Society of Super-Villains with the majority of the world's villain population. Two weeks after that conflict, when Batman, Superman, and Wonder Woman had seemingly disappeared, Manning hijacked Ferris Air flight 456. Power girl pursued him but he got away when Adam refused to allow her to cross Kahndaq airspace.
Later, in New York City over the Kahndaqi Embassy, Terra-Man was hovering above as Black Adam explained to assembled members of the press that heroes like the aforementioned Trinity didn't do enough to stop crime and he grabbed Terra-Man and dispassionately ripped the villain in half, allowing the blood and body parts to fall on the stunned crowd below. He simply stated that people like Tobias Manning didn't deserve to live.