10 Best Nintendo Switch Horror Games
Resident Evil Revelations? Little Nightmares? Which Nintendo Switch games are the scariest?
When you think about Nintendo - and its incredibly successful console the Switch - you likely conjure up images of bright and colourful games like Super Mario Odyssey, Animal Crossing and Breath of the Wild.
However, there's a dark side to this charming games system that has easily scared the pants off any players who are brave enough to take it on. Horror gaming is a huge staple of the medium, as casual and hardcore fans alike love to test their bravery and see if they'd survive some horrible situations.
This is something that every games console has taken advantage of. Still, the Switch, in particular, has some really exciting titles that play very well on the system and present players with something entirely unique.
The following ten entries are the best of the best when it comes to these spooky titles, as they have all been well-beloved by the players who took them on, and the critical scores have been predominantly positive.
If you're looking for a scary experience from your Nintendo product, then look no further.
10. Little Nightmares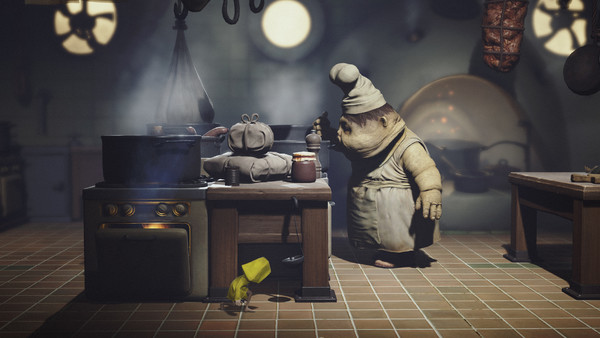 This game really does have everything it needs to give you a scary and charming experience. It's got a gorgeous - if macabre - art style, some great puzzles, terrifying enemies, and a unique premise that leaves plenty to the imagination - but doesn't keep you in the dark.
Little Nightmares sees you take on the role of Six, a little girl in a yellow raincoat, who awakens from a dream to find herself aboard a strange and dangerous underwater vessel called The Maw. Armed with only a lighter and a collection of Nomes, you explore this strange place, challenge monstrous villains and attempt to escape your dreadful fate.
Part of what makes this game so exciting is the sense of progression. In the beginning, you feel utterly helpless as this unfortunate little girl trapped in a dome with hideous monsters, but as the title proceeds you begin to learn the ropes and start to take agency, becoming better at escaping your adversaries.
However, despite this, it's still terrifying throughout, thanks to your tiny size and the relentless stalking of the antagonists.
The sequel is also available for the system now, so you've got plenty of material to go through if you haven't played it yet.