10 Star Trek Easter Eggs & References In Starfield
Make room in your cargo hold for some Starfield Star Trek Easter eggs.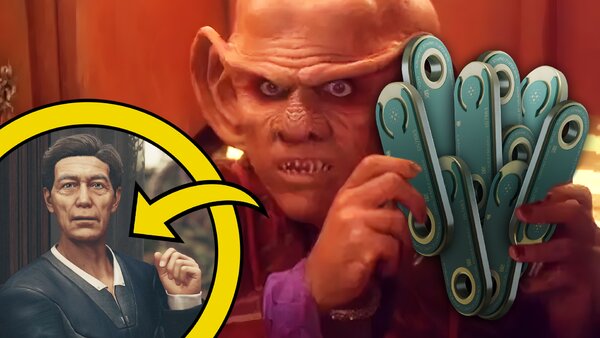 Starfield is Bethesda Game Studios' first unique intellectual property in a quarter of a century, in active development for about eight years. Let's just say it was worth the wait! Helmed by director Todd Howard, who grew up watching Star Trek, Starfield is a visually stunning, awe-inspiring adventure, with rich character arcs, romances, over 250,000 lines of dialogue, and enough planets, side quests, ship building, and out-posting options to keep you busy until the 23rd century in which it is set. Our editor Kris and I are thoroughly hooked!
Starfield clearly makes reference to the wider spectrum of science fiction and fantasy, celebrating real-life scientists, historical events, and pop culture, as well as providing the odd nod to other Bethesda properties. This is a Star Trek channel, however. Bethesda has precedent for Star Trek Easter eggs in their IP, but now this one is in space!
There have already been some amazing Trek fan ship builds in Starfield (Enterprises, Defiants, and more), and Kris has done a truly spectacular job of recreating something that looks Intrepid. Together, we have been grav jumping and battling our way across the field of stars to track down all the Star Trek references we could find in Bethesda's expansive RPG.
So, as new 'Space Karen' contender Sarah Morgan and Captain Picard would say, "Let's see what's out there".
10. A Stellar Cast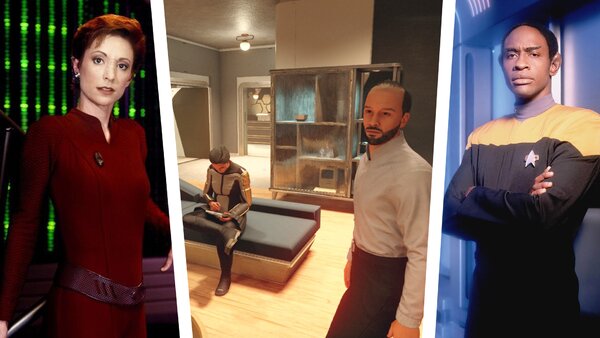 "I guess I can talk about this now" is how Armin Shimerman confirmed to the world that he was the voice of Starfield character Walter Stroud, co-owner of ship manufacturer Stroud-Eklund and "wallet" of Constellation (the game's central space exploration society). If having Shimerman play the money man doesn't get your lobes tingling, I don't know what will.
Walter is certainly a lot more generous in person and in fortune than your average Ferengi, but then again, Quark did have his heart of gold(-pressed latinum) moments. There are also a lot of lines in the game spoken by Walter Stroud that could have been spoken by Quark himself, particularly when arriving at Stroud-Eklund shipyards and hearing the advertising over the tannoy.
From one Station inhabitant to another, Nana Visitor also lends her voice to the game, and she is joined by Voyager's very own Vulcan, Tim Russ. Basically, if you choose the 'Kid Stuff' trait at the very start of Starfield, you can have Kira and Tuvok for parents!
Bethesda has a long history of hiring Trek actors: The Elder Scrolls IV: Oblivion featured none other than Patrick Stewart as Emperor Uriel Septim VII, and Fallout 3 & 4 combined starred Ron Perlman, Malcolm McDowell, Dwight Schultz, Robert Picardo… and Tim Russ! Other Trek alum adding their vocal talents to Starfield include Elias Toufexis (soon to be in Star Trek: Discovery [again]) as Sam Coe, Barry Wiggins (a Jem'Hadar in Star Trek: Deep Space Nine and police officer in Star Trek: Voyager) as Barrett, Blu del Barrio (Adira in Discovery) as Dani Garcia, and Gabrielle Ruiz (T'Lyn in Star Trek: Lower Decks) as Nyssa Marcano.